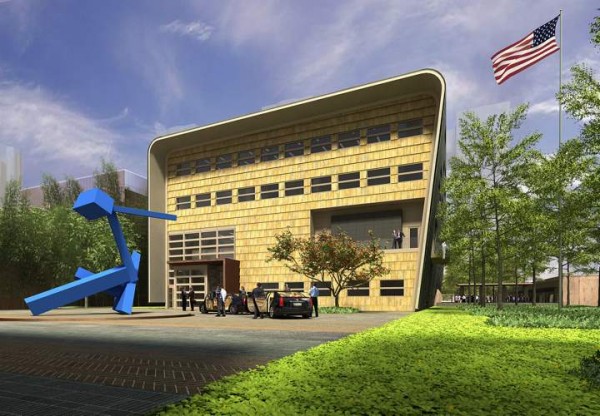 "Four and eight are bad in China," Joel Shapiro explained late last month in his studio in Long Island City, just south of the Queensboro Bridge. The symbol for that number sounds like the symbol for death. "I had my assistant ask his Chinese in-law, who's this great mahjong player of Chinatown, which numbers were okay. Also, I discussed it with people at the State Department."
The officials at State were more than happy to share their thoughts since the question concerned a sculpture that Mr. Shapiro, 70, was preparing for a new consulate that the department is building in Guangzhou, China. The work, which will be unveiled in 2013, has six pieces, all a rich light blue. "I think it's a well-considered color," he said. "Red would really be pandering."
As in Mr. Shapiro's best known work, those six blocks just barely touch. They seem to float in the air, depicting an abstract form that, from various angles, seems to leap, gallop or even fall forward. "The piece is really about individual spirit and liveliness," he said. "That is the one product we have that we really do have to offer."
The artist took us around the airy first-floor of his studio before our interview, which was filled with works in progress, studies for larger pieces and fully developed sculptures, and he pointed out one that simply wouldn't have been right for the consulate. "I wouldn't have this, some Wagnerian battle going on," he said, motioning to a complex starburst of wood blocks. It looked tense, aggressive.
The sculpture that did make the cut will occupy a prime place behind the building, which is being designed by Skidmore, Owings & Merrill's Craig Hartman, a "buoyant believer in the meaning of form," in Mr. Shapiro's words. Chinese people will pass by it as they go to get visas and handle other business with the U.S. government.
The artist is offering his services gratis, but the project is funded by the Foundation for Art and Preservation in Embassies (FAPE), which has also commissioned works by Ellsworth Kelly, Sol LeWitt, Martin Puryear and others. "They are just doing so much that can't be done," Mr. Shapiro said emphatically. "You can't spend taxpayers' money on artwork that's deeply controversial."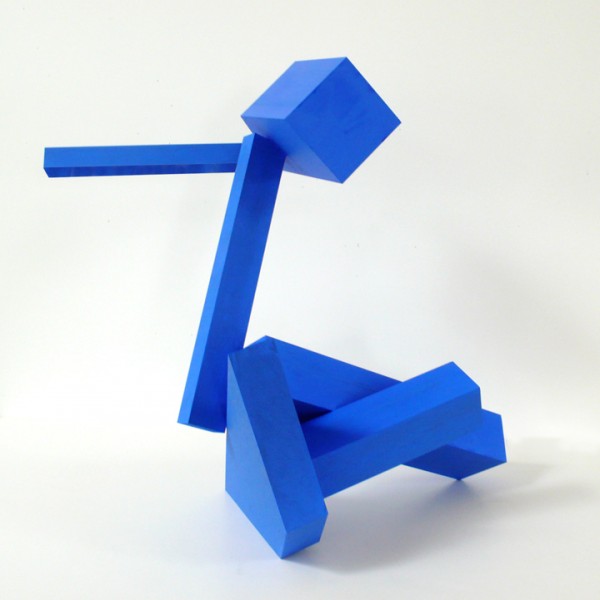 This is Mr. Shapiro's second sculpture project with FAPE. The first was commissioned back in 1998 for the Ottawa embassy, and he recalled that then-First Lady Hillary Clinton came to dedicate the work. "She was beyond brilliant," Mr. Shapiro recalled. "She gave a short study, a kind of profound talk about it's meaning and abstraction."
This new work will be 22 feet tall, which is a bit too big for Mr. Shapiro to cut and assemble in his studio, so it's being built by KC Fabrications, in Gardiner, N.Y., just south of New Paltz. Though the designs were done when we visited, the artist was still thinking about how to handle the painting of the piece.
"I'm kind of tempted to hand paint it," Mr. Shapiro said. "The problem is that I don't know if you can get the necessary adhesion." Thankfully there are new spraying and paint technologies that have made it a great deal easier to get just the right look. "They have this new paint that they've been using on military vehicles developed with the Pentagon," he said.
"The problem in the past was that the only good paints were shiny," Mr. Shapiro continued. "I don't want it to be shiny, I want it to be matte. Matte you read the form, shiny you read the surface. You don't want the shiny, glossy, Buick look."
By a pleasant coincidence, The Observer was in Denver last weekend and, while visiting the Denver Art Museum, had the chance to see another outdoor sculpture by Mr. Shapiro that the artist installed late last year. It had just that matte look, though it seems to be a slightly darker shade of blue than the Guangzhou piece will be.
In Denver, five thin rectangular blocks form the shape of an agile dancer—a classic Shapiro pose—on the lawn just outside the building, nimbly balancing on one leg, flouting the austere solemnity of so much geometric sculpture. It was enough to make one a bit jealous of all those State Department employees that will get to see their own Shapiro every day they go to work.