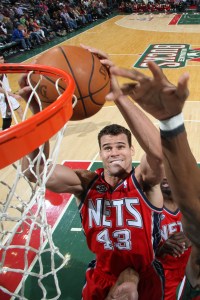 Beleaguered wax-man Kris Humphries has had a rough twelve months. The NBA lockouts had us fearing that he would forever be employed as Mr. Kardashian, until negotiations broke down on that front as well, leaving him booted from Team Kim shortly after their fairytale wedding. ("Fairytale" in the sense that it was entirely made up and in no way based on reality.)
His refusal to sign the divorce papers have lead to an ugly court case, with allegations of cheating, stalking, sex-tape set-ups, and a bunch of other sociopathic behavior on both sides. On occasion, he's been booed off the court before he could even foul.
But now things are looking up for Mr. Humphries. The Brooklyn Nets (previously of New Jersey) have re-signed the power forward with a two year contract for $24 million.
That's an obscene amount of money for a mediocre player: his previous contract for one year was 8 million, the average player makes $5 million a year and price caps for signing deals make Mr. Humphries only several million behind great players like Lebron James and Carmelo Anthony. (Kobe Bryant remains the exception, with his $25.24 million salary playing for the Lakers' 2011-12 season.)
Why the high cash? It's certainly not because of his amazing media presence. Already, the anthropomorphized Ken Doll is doing his best to screw up his good deal, as he announced his re-sign on Twitter with this message: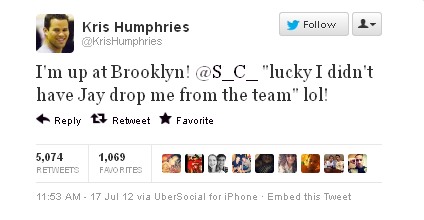 You get it? Because Jay-Z is part owner of the Nets, and is the mentor of Kanye West, the man currently having sex with his Ms. Kardashian, to whom Mr. Humphries is still legally married (at least until their bloody, bloody court case is settled)? Very "LOL," indeed!