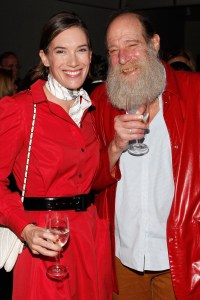 Today the BBC offered a nice look at the art scene in Glasgow, Scotland, where a number of great artists have lived and worked over the years, including Douglas Gordon, Richard Wright and Susan Philipsz. (Hans Ulrich Obrist once called it the "Glasgow miracle.")
Why is it such an art powerhouse?
Simon Starling attributes the city's success, in part, to its Transmission gallery, and talk about his experience helping to organize the program there:
"We had this great sense of confidence. That you could just get on the phone to your favourite artist somewhere in the world and invite and often they would come.

"So people like Lawrence Weiner, who was this super important conceptual artist turned up and made a beautiful show and gave a talk and drank whisky with us all.

"Those moments for young artists are so empowering and demystifying.
This sounded a bit familiar, Mr. Weiner drinking whisky. And sure enough, it turns out that it is his favorite drink. Scottish single malt whiskey, he told the 20 x 200 print-editions company.
At a talk in 2008 at Art Basel, he discussed the pornographic film that he made in the 1970s, and offered some advice about how to procure it:
It's available from the Swiss Institute on a DVD at a [reasonable price]: I figured if three people decided to drink beer instead of Whisky one night when they went out, they could really afford 150 Swiss Francs to go and buy the DVD and they could watch it together.
Sound advice. Take a break from whiskey every once in a while and save some money. Buy an art film. (Or some of the whiskey glasses he designed for the Swiss Institute.)
If you're still following along here and want some more Weiner-whiskey material, there's an intense conversation he had with Karlyn De Jongh and Sarah Gold in January 2010 on a houseboat in Amsterdam that may be of interest. The transcript was turned into a script for a play, and so it notes each time that he smokes or takes a sip of, yes, whiskey.
Here's an excerpt:
I had the same as any other young person growing up in a counter-cultural thing, at times I had to steal something from an object, an idea, something that I never really enjoyed doing. So, I've decided not to do it as much as I possibly can. But it's not any moral value. If you're really hungry, you can steal a loaf of bread. What's the difference? If it gets to be a necessity, the morals go out the door. Somebody is trying to kill you and you have to kill them. I guess you do it.

[Lawrence takes a sip of whiskey.]
Incidentally, it's 5 p.m. in New York, and we're going to go do exactly the same thing right now.