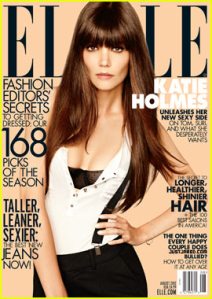 There's no way in this go-go 24-hour news cycle to present a fully up-to-date profile of any celebrity. Take, for instance, the case of Katie Holmes, who was to be a boring August Elle cover subject until her divorce filing from Tom Cruise.
If the timelines regarding her "daring escape" are to be relieved, Ms. Holmes was plotting her divorce while doing the interview in May, making this interview a calculated post-split news-grab. Page Six frames the interview, in which the actress says her 30s are "a new phase" as revelatory of Ms. Holmes's state of mind at the time, but it seems that it may be a message sent to the future from the past while a newly in-demand Ms. Holmes figures out her next press hit. Or it could mean nothing, and Elle is forced to milk it with press leaks of minor details, given that Ms. Holmes is hardly available for comment now that actual news has broken. (This just keeps happening to Elle, whose strong-and-independent!-Rihanna cover in May came out just after the news cycle had digested her Chris Brown duets, which Rihanna did not comment on. They hadn't happened when she was interviewed.)
Sunday's New York Times Arts and Leisure section, too, is to feature a profile of Frank Ocean–the R&B artist who seemed to come out, or at least acknowledge a past relationship with a man, over the July 4 holiday. In an note online, the writer Jon Caramanica mentions that before closing the piece on Tuesday, he pondered Mr. Ocean's sexuality based on a number of hints the artist had given, but "didn't press the point." The piece would be very different, on paper, had Mr. Caramanica had an extra day to work–or maybe Mr. Ocean only would have published his letter of truth when he knew no journalists were currently profiling him.
All this uncertainty! Thank goodness for magazine editors we still have boring celebrities to profile, like Emma Stone.