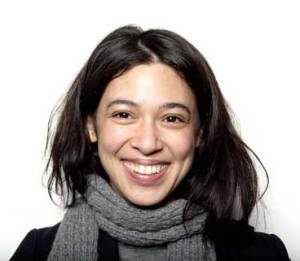 As we head to breakfast near her West Village apartment, Leanne Shapton has a pressing question. "Does the cover look too feminine?"
She had received mixed reviews from friends of the cover art for her new personal history, Swimming Studies, which shows a cerulean blue swimming cap; those who know swimming, she explained, know that only girls wear caps.
For a writer, Ms. Shapton, 39, is unusually concerned with the aesthetic: her new book uses illustrations of swimming pools in thick blue brushstrokes and photographs of bathing suits to evoke her youth as a serious swimmer in natatoriums across her native Canada. Her book cannot truly be called a memoir: "I hate the word memoir, because I don't think this book tells the cohesive story of my life," she told The Observer. "So I had to figure out how to talk about my life and I always thought in landscapes." Like the photography books she edits for her publishing company, J & L Books, Swimming Studies uses images to illustrate memories.
And her visual art has heretofore been Ms. Shapton's claim to fame. She was formerly the art-director of The New York Times Op-Ed page; her best-known book so far may be Important Artifacts and Personal Property from the Collection of Lenore Doolan and Harold Morris, Including Books, Street Fashion, and Jewelry, a faux auction catalog using intricately staged photographs to document the decline of a relationship; the female model in the book's photos was pal, and now novelist-of-the-moment, Sheila Heti.
Fans and friends are easily drawn into Ms. Shapton's orbit; few of the season's memoirists have likely had essays written about them in W describing the author's "girl crush." The book party for Swimming Studies (at Le Bain, naturally) featured on-land synchronized swimmers Ms. Shapton had discovered at a taping of This American Life—"If a book could have a video epigraph, I would have used them," she told us—as well as savory donuts, fitting the book's subtheme of swimmers' carbo-loading, and a carefully calibrated guest list. (Hello there, Jennifer Egan!)
Girls star Zosia Mamet showed up in a crop top and parachute pants. "I just discovered her art two months ago and sort of stalked her!" she told The Observer. "She was very amiable and super friendly and let me come over to her house and showed me all her stuff after I emailed her and said 'I love your stuff!' I was there for hours—so long."
Ms. Shapton speaks modestly about her talent. "I wish I were a graphic novelist, so I could draw me, but I can't draw anything more than once. I like the way those stories flow because of how much is left out." The elisions in Swimming Studies are not merely visual; they're also narrative. "I don't have vivid memories of the Olympic trials, or of winning medals," she writes. What she does remember: the food she ate after practices (anything containing a carbohydrate is, for her, a madeleine), the midnight drives across Canada, the faces of her competitors. "I still look at these 12-year-olds' faces," she said of her own paintings in the book, "and I'm like, 'Ahh, fuck her! That girl is so scary, so fast!'"