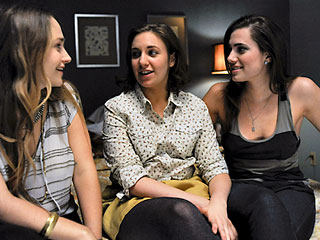 As is the case with college basketball and root vegetables, HBO's generation-defining television 'Girls'—one of those wonderful things Western Society is quite simply blessed with—must take a break for part of the year. And yet, just because we don't see them doesn't necessarily mean they're gone, that their machinations aren't engaged in some degree of motion; that they are not, for lack of a better term, bloggable.
Take, for instance, a recent Blouin ArtInfo interview with the daughter of the drummer from Bad Company, granddaughter to an absurdly wealthy British financier, and a star of HBO's groundbreaking anthropological document Girls, Jemima Kirke. Besides act, did you know she paints? And her subjects may ring a bell:
While poking around your Web site, I came across a nude portrait of your friend and costar Lena Dunham. What was it like to paint her?

During one of our sittings she was on vocal rest so we sat in silence… which was really nice. For another, she had a UTI so she was bitching and whining the whole time which touched me because she sat through it anyway for the sake of the painting. It felt very right that I paint her. We're both artists. We use each other for inspiration. We help each other out.
Want to see it?
[Ed. KINDA NSFW? I GUESS?]
And thus, the countdown for the next season of Girls gets a little longer as sociologists and liberal arts underclassmen chomp harder at the bit for the relatively quirky and universally accessible life lesson for Hannah and The Girls that this moment with inevitably provide. Or as one keen-eyed and likely prescient reader put it: "Guaranteed GIRLS S2 B-plot." Collectors, have at it.
[Previously: HBO's 'Girls' Second Season Casting Notices Getting Progressively Funnier]
fkamer@observer.com | @weareyourfek