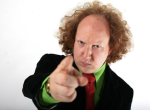 Last week's sparring or casual willy-wagging between Mitt Romney, David Cameron and Boris Johnson – Mayor of London and King of the Clangers – didn't quite give Romney the kind of publicity he was hoping for, but it certainly was lovely jubbly for the comedians and comedy writers from Great Britain, providing them with plenty of juicy material. And welcome relief for Mr. Johnson, who must have been all too pleased to give up his crown for a few hours. Next to Mr. Romney, he must have felt like the yardstick of cool.
The Observer decided to reach out to some of these fearless ninjas of British Comedy, as the Edinburgh Fringe Festival kicked off in time for the Olympics. Yes, that's right. There are other major events besides The Games happening in Great Britain.
Co-host of "Political Animal," Andy Zaltzman, is more optimistic about Romney's intellectual abilities than the rest of the gang: "Romney's words might have seemed like the deluding pratings of a career buffoon, but they were in fact as ice cold and calculating as the world nude penguin chess champion… Romney proved that he is a leader willing and able to say exactly the wrong thing in a foreign affairs situation – a quality that recent electoral history shows is much prized by core Republican voters.  His words might have seemed cynical, unnecessary and wrong.  And they were.  And that's why he said them."
Comedian Gordon Southern appears to concur, but only by a smidge: "It seems like a transparent attempt to get people in the UK talking about Mitt What's-his-face. By making comments about something important to us here in London, he has politically hash-tagged himself to our twitter feed."
Will Maclean, whose writing credits include "Man Stroke Woman" and "The Weakest Link," isn't too hopeful about Romney's abilities to befriend the Brits: "I suspect that "Britain" was an abstract concept for Mitt Romney until he started running for president and pretending to take an interest in things outside of the US. It must have been a shock for him to realize Britain actually does exist, poor lamb, though it isn't populated by hobbits as he may have imagined."
Comedy writer, Dale Shaw was shocked and appalled that Romney managed to forget the name of the leader of the Labour party: "The leader of the Labour party is called Ed. That's two letters to remember. Good luck America!"
Sketch comedy group, WitTank, politely chip in: "There's only one person who's opinion we respect less than Mitt Romney's and that's his diplomatic advisor's. That's if he has one."
For Mr. Shaw and others, the way that David Cameron and Boris Johnson appeared in the press was even more baffling. He adds: "Probably the most remarkable thing about this incident is it made David Cameron look like he had some kind of backbone."
Stand-up comic, Mark Nelson is quick to point out: "If you can be ridiculed by Boris Johnson, a man who looks like he would get lost in his own shed, maybe you shouldn't be put in charge of a nuclear arsenal."
A couple of comic warlords have vocalized their battle cries in rhyming comebacks. Actress Jessica Hynes offers us a limerick: 'There was an old man named Mitt, who said our Olympics were s***. He wanted attention for his upcoming election but ended up looking a twit.'
Improvisational comedy troupe, The Oxford Imps, were feeling patriotic: "Diss our Olympics, Mitt? Cor Blimey!/You just can't mess with a blue-blooded Limey. The Olympics just aren't as good as Atlanta/A misguided attempt at jovial banter… Romney's left a right rum chap/While Boris runs a victory lap."
Scottish comedian and actor Daniel Sloss has some patriotic views fortified by a somewhat surprising rationale:  "There is no point in the rest of the world trying to complain about the London Olympics. We're British. We're the masters of complaining. We've got Gold, Silver and Bronze in complaining. Don't even try to compete with us on this."
But when we asked these British comedians whether they would vote for Romney in the elections, a few were fervent supporters.
As Dale Shaw concluded: "In terms of this man being elected, that's obviously terrifying. Though speaking as a comedy writer, it's fabulous news. Obama is so difficult to lampoon, it appears Mitt will provide endless fodder."