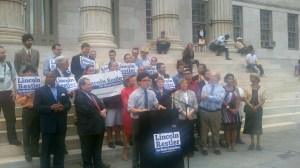 The district leader position might be unpaid and little-noticed, but Lincoln Restler continued to prove it can be transformed into a noticeable political force this afternoon. Mr. Restler, fighting for reelection against Kings County Democratic Party-backed Chris Olechowski, managed to muscle out a whole host of notable elected officials to endorse him on the steps of Brooklyn Borough Hall, including Borough President Marty Markowitz, Congressional Members Nydia Velázquez and Jerry Nadler, and multiple politicians from every level of legislative office.
Each elected official proceeded to march to the podium and praise Mr. Restler, describing him with such terms as "energizer bunny," "rock star," and "breath of fresh air," but it was perhaps State Senator Eric Adams — an ally of the county Democrats and the most surprising guest in attendance — who was the most effusive.
"I'm a long believer that although many of us tend to believe that we change lives and change history, the winds of change have never been blown by adults," Mr. Adams said. "They have been blown by young people like Lincoln. All across the globe, they've had the lung capacity to blow the globe in the direction that they want it to go into. So I see Lincoln as taking a deep breath and he's going to exhale and move Brooklyn to the place it ought to be."
"Somewhere in Los Angeles someone is sitting in the stands of Dodger Stadium and saying, 'Darn, I wish I was still in Brooklyn to be where Lincoln Restler is our district leader," he added.
Mr. Adams was hardly the only politician to reference the 28-year old district leader's young age either. Both Mr. Nadler and Mr. Markowitz, veteran politicians in their own right, compared Mr. Restler to a young version of themselves.
"Obviously he's got a style on his own, that's for sure," Mr. Markowitz said of Mr. Restler. "In fact, he reminds me of another relatively short Jewish boy from Brooklyn — minus the horn-rimmed glasses and a few pounds, that's for sure — who first ran for office nearly forty years ago."
For his part, Mr. Restler vowed to maintain his reform-minded efforts within the county organization in his next term in office, which he described as pushing for transparency and progressive policies.
"This is a fight worth fighting," he said while noting most people haven't heard of his position. "It's time we have a Brooklyn Democratic Party that makes Brooklynites proud, that reflects our progressive values, and we're going to win this campaign September 13th."