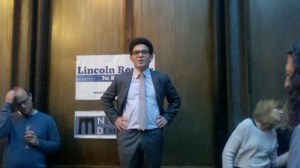 District Leader Lincoln Restler, set to have one of the most high profile reelection campaigns in the city this September, has raised an impressive $55,000 for his campaign in the first six months of the year. This is despite the fact that the race's victor will hold one of the lowest profile elected positions available: an unpaid seat in the Kings County and state Democratic parties.
The total places him on a path to potentially double the relatively astronomical $60,000 he raised for his 2010 campaign, which he won by a mere 121 votes. Unlike those for legislative elected offices, district leader races often attract no money, but Mr. Restler has gained stature through continuously sprinting from one event to the next, as well as his public opposition to Brooklyn's Democratic leader Vito Lopez.
For his part, Chris Olechowski, Mr. Lopez's candidate running against Mr. Restler this year, hasn't been slouching in his own fundraising either. Mr. Olechowski has raised a very solid $21,000 so far.
No matter how much money Mr. Restler can raise, he's destined to have yet another close race, however. A large percentage of the Democratic primary electorate is a sect in Hasidic Williamsburg loyal to Mr. Lopez's political interests, and Mr. Olechowski may attract additional support from Greenpoint's Polish community.
"He's going to need every penny," one source close to Mr. Restler said when asked about the total, pointing to the fact that Mr. Lopez's candidate in a recent congressional race received most of his votes from the Hasidic community in Mr. Restler's district. "Vito is throwing the full force of the Democratic machine into this district leader race."
Mr. Restler currently has $58,000 on hand in his account.