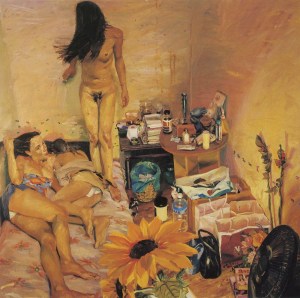 Lisson Gallery, which has branches in London and Milan, announced that it now represents Chinese painter Liu Xiaodong. Mr. Liu's makes plein air paintings of people in landscapes that are often elaborately staged, and has appeared in numerous international biennales. The gallery shared this in a release:
"The scale of his projects often matches that of film-making, with elaborate location development work and semi-intuitive story-boarding chronicled in detailed project diaries. His painting style is therefore skilled, self-conscious and carefully planned – American art historian Jeff Kelly has said that 'Liu's art lies in creating zones of artifice not in the studio, but in the middle of real life.'"
Mr. Liu shows with Mary Boone Gallery in New York.