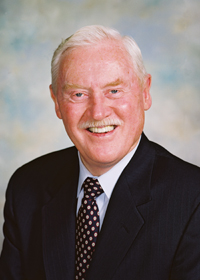 GOP State Senator Owen Johnson, who had previously vowed to seek reelection amid rumors that he might not seek reelection, surprisingly confirmed those rumors after submitting petitions to be on the ballot again, Newsday reported this morning. The octogenarian senator was first elected in 1972.
The move will allow Mr. Johnson to select a Republican replacement of his choosing to face off against Democratic county legislator Ricardo Montano.
"Suffolk GOP chairman John J. LaValle, Islip GOP leader Frank Cantone and Babylon GOP chair Anthony Pancella will meet over the weekend to decide on a replacement, according to a high-level party source," Newsday wrote, naming Assemblyman Philip Boyle and Suffolk County Legislator Thomas Cilmi as leading replacement candidates.
The exit of Mr. Johnson, an ally of the Suffolk County Democratic organization, will also mean that the local Democratic Party can consolidate around Mr. Montano.
"I'm pleased for him," Mr. Montano told the publication. "He's had a long distinguished career. He's done great service for the county. It's a good move for him and his family at this time."