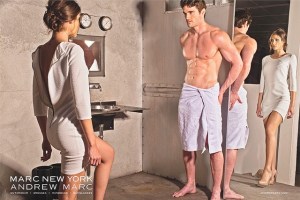 In the beginning, there was only darkness, and the lord said "Let There Be Twilight." And it was good. (Well, not really.) On the second day, the Lord said "Let Twilight beget erotic fan fiction," and lo, 50 Shades of Grey was taken from the spine of Stephenie Meyer's Mormon vampire book. On the third day, the lord populated the earth with children of Grey: the book parodies, the sex toys, the male escort services.

And on the last day, the lord looked around his creations and saw that there were still things upon this earth that were not beget by a poorly-written sex book that was beget by a poorly-written teen novel. And he said, "Whatever, just stick a statement on there saying it was 'inspired' by 50 Shades of Grey, and ye shall reap the bounty of my Kingdom."
And the fashion world listened.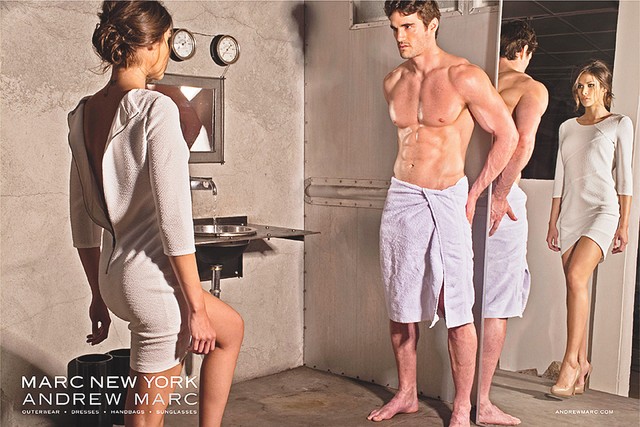 This advertisement for Marc New York features Celebrity Apprentice star/Miss Universe 2008 Dayana Mendoza in a white dress, standing in a bathroom with Scottish Rugby player Thom Evans. He is wearing only a towel.
According to  Andrew Marc's fashion director Chris Gbur, this shoot was inspired by 50 Shades of Grey.
Fine. Here are some other things you can say this shoot was "inspired" by:
1) American Psycho
2) Restoration Hardware
3) The White Album
4) Sports
5) Mad Men
6) I Know What You Did Last Summer
7) The Fountainhead
8) North Dakota
9) Godard's Contempt
10) Celebrity Apprentice
11) South Dakota
Then again, those things probably don't move towels/zipper dresses like a well-placed 50 Shades allusion.