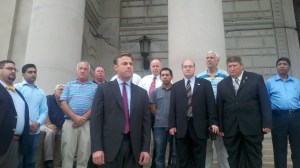 "I'm here today because I've been walking our district in Brooklyn and in Staten Island and I've been talking to thousands of people," Mark Murphy, the Democratic candidate against GOP Rep. Michael Grimm, declared at a perss conference earlier today. "I hear so many people ask me so many of the same questions — this is Democrats, this is Republicans, this is Conservatives, this is Independents — 'Can't we have honest leadership? Don't we deserve honest leadership?'"
He added, "I say to them, 'Yeah, you do.'"
Mr. Murphy had gathered on the steps of the Richmond County Supreme Court to push allegations Mr. Grimm is facing further into the public sphere. Reports are continuing to emerge about the FBI and a federal grand jury investigating Mr. Grimm's 2010 campaign fundraising, and possibly Mr. Grimm's own former days as an FBI agent as well.
And at today's event, Mr. Murphy series of questions for the Republican to answer.
"How many of your staff have been investigated?" he asked. "How many of them have been called before the grand jury? Are they all cooperating? Will you, as an ex-FBI agent demand accountability of your staff and demand that they be open and forthright with the FBI, and will you do the same?"
When Mr. Murphy's campaign raised these issues last week, the Republican National Campaign Committee accused him of breaking his vow to avoid mudslinging and going negative on the topic. Despite the strongly worded press conference, he insisted that this wasn't the case, however.
"I'm not going negative, these are material questions to the campaign," he said to reporters after finishing his address. "Can Michael Grimm be effective as a legislator with this cloud hanging over him?"
Watch below:
[youtube http://www.youtube.com/watch?v=pBfvWIWBEEc]