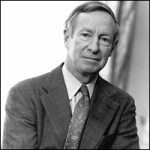 Barton Biggs, former Morgan Stanley chief global strategist and much-admired market prognosticator, died on Saturday at the age of 79, according to a memo sent to Morgan Stanley employees.
Mr. Biggs began his career in finance at E.F. Hutton in 1961, and started one of the first hedge funds, Fairfield Partners, four years later. In 1973, he went to work at Morgan Stanley, where he founded the firm's investment management unit and research department. Those accomplishments were plenty on which to build a reputation; 1999, he called the collapse of the tech bubble, cementing his legend.
Mr. Biggs was also the author of three books, including Hedgehogging, many people's favorite work on the hedge fund industry. In 2003, Mr. Biggs retired from Morgan Stanley, and bypassed the golf course and Greek isles to co-found Traxis Partners, a hedge fund: "I was doing it because professional investing is the best game in the world, and I relished the competition," he told Bloomberg in 2006.
"Barton left an indelible mark on our business, our culture and our shared notion of leadership at Morgan Stanley," wrote James Gorman, chief executive officer of Morgan Stanley, in the memo. "He was known as an independent thinker, colorful writer and one of the pioneers of emerging markets investing"