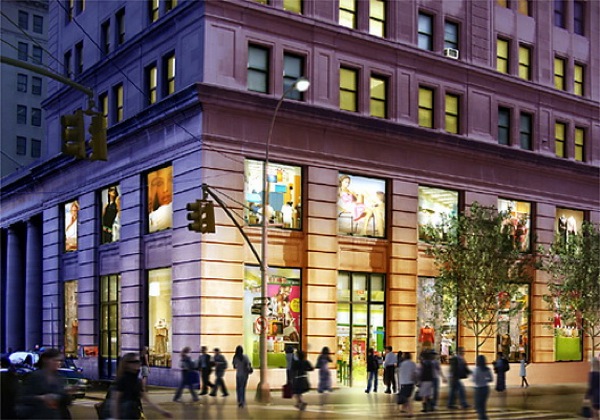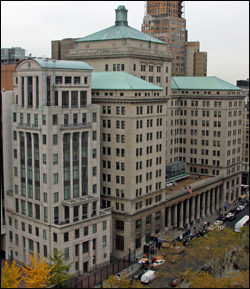 The Landmarks Preservation Commission has been on the defensive of late, fighting off claims from the real estate industry that it hinders development rather than helping it. But in givings its unanimous approval to the transformation of the Brooklyn Municipal Building—in the newly created, much maligned Downtown Brooklyn Skyscraper Historic District—the commission reasserted its role as a steward of both the city's history and economy.
"It proves again and I don't know how many times we have to do it, that economic development and preservation go hand in hand and here's a textbook example of it," Commissioner Chairman Robert Tierney said in an email.
United American Land, a local developer active in the Fulton Market, plans to transform the first, second and below-grade floors of the building into roughly 48,000 square feet of retail space. Albert Laboz, United American Land's principal, confirmed plans for a restaurant within the building and noted that the company is close to signing a lease with Sephora.
While the commission has no control over tenants, Sherida Paulsen, the architect who presented the project at a hearing on behalf of Mr. Laboz, noted to commissioners that the retail space would not be used for banks, pharmacies or fast food.
The space is currently being occupied by the Department of Finance, which will relocate within the building to other city-owned space.
Elizabeth de Bourbon, a spokeswoman for the LPC, said there was no opposition expressed during the hearing and many commissioners expressed tremendous approval for the project. "Several of the commissioners noted it's a great project," she said.
Brooklyn Borough President Marty Markowitz, whose office in Borough Hall looks out on the Municipal Building, said he looks forward to its transformation into a vibrant retail corridor.
"Downtown Brooklyn is in the middle of an amazing renaissance and this will only enhance our stature as a 24/7, live, work, play and learning city center," Mr. Markowitz told The Observer in an email. "With the help of developer United American Land, we will soon be able to celebrate 210 Joralemon becoming an economic powerhouse and world-class destination for dining and shopping."
Mr. Laboz said his company is eager to bring great retail to Brooklyn and is happy to have successfully gained the commission's approval. The remaining process for the approval of the retail development of the building consists solely of authorization from the Department of Buildings.
"We have had a lot of interest from various retailers and we can now move forward with plans with a stronger sense of certainty," Mr. Laboz said.