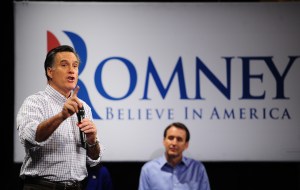 Just four days after claiming Condoleezza Rice was the "frontrunner" in Mitt Romney's veepstakes, the Drudge Report is claiming Mr. Romney has "made his decision" and decided on former Minnesota Governor Tim Pawlenty.
The Drudge Report's proprietor, Matt Drudge reportedly has a close relationship with Mr. Romney's campaign manager Matt Rhoades. Mr. Drudge's close connections to the Romney campaign make it possible he has some inside information about the vice presidential vetting process, but it has also led to speculation he may be trying to shift the conversation away from the continuing controversy over Mr. Romney's departure from Bain Capital.
This time around, Mr. Drudge pegged his claim to a New York Times report that Mr. Romney is considering tapping Mr. Pawlenty. Officially, the Romney campaign is not commenting on the veepstakes rumors.
"We don't discuss VP speculation," Romney campaign spokeswoman Andrea Saul told The Politicker. 
Mr. Pawlenty came very close to being tapped to run on the Republican ticket with John McCain in 2008. Last year, he began a presidential campaign for this year's race, but he dropped his White House bid just a few months later after coming in third in the Iowa straw poll last August. Since then, Mr. Pawlenty, who finished his second term as Governor of Minnesota in 2010, has aggressively campaigned for Mr. Romney.
Other politicians who have been floated as potential running mates for Mr. Romney include; Ohio Senator Rob Portman, Wisconsin Congressman Paul Ryan, Louisiana Governor Bobby Jindal, New Hampshire Senator Kelly Ayotte and Florida Senator Marco Rubio. Like Mr. Pawlenty, all of the other entrants in Mr. Romney's veepstakes have also hit the campaign trail for the Republican nominee. According to the Times report on Mr. Pawlenty's vice presidential prospects, "several Republicans close to the campaign believe Mr. Pawlenty and Mr. Portman stand out among those being considered."
Update (12:05 pm): The Drudge Report has now changed their headline linking to the Times article from "HE'S MADE HIS DECISION!" to the decidedly more tentative "NYT: HE'S 'MADE HIS DECISION.'"