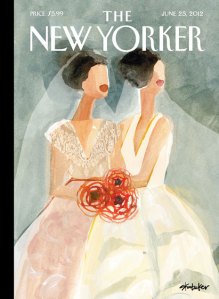 June is the most popular month of the year to get married, and not just for the Romans, who did so to honor Juno, the goddess of marriage. It is also preferred by media power couples. Three of them snuck in late-late June weddings over the weekend. 
New Republic publisher Chris Hughes and Sean Eldridge's Saturday wedding lived up to couple's reputation as the photogenic poster grooms for marriage equality. But the blow-out might have caused a scheduling conflict for fellow Facebook founder Mark Zuckerberg, whose buddy Washington Post CEO and chairman Donald Graham married Bloomberg executive editor for investigations Amanda Bennett the same day. (Luckily, their Philadelphia nuptials were family only, the Post reported.)
On the opposite side of the country, in Catalina Island, Calif., a New York Times wedding was underway: Times education writer Tanya Caldwell wed former Times reporter Jonathan Abrams. He is now a staff writer for Grantland.