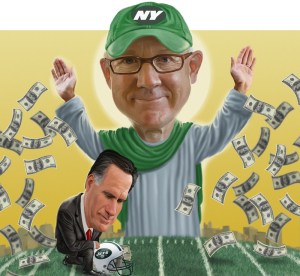 Last February, back when Rick Santorum shocked Republicans with a string of primary victories and the once-inevitable campaign of Mitt Romney was teetering on collapse, Woody Johnson held a private meeting in his office in Rockefeller Center.
Mr. Johnson is the heir to the Johnson & Johnson family fortune, the owner of the New York Jets and, over the past year or so, the head of Mr. Romney's fundraising efforts in the political goldmine that is New York, New Jersey and Connecticut.
The meeting was one of several he had held over the course of the campaign with those whose names had shown up on campaign finance filings for some of the other GOP hopefuls, donors who had cast their lot early on with Tim Pawlenty, or Herman Cain, or Rick Perry.
The message was always the same: Mitt Romney will be the nominee. He is only one who can keep Barack Obama from sinking the economy further. There was no political deal-making, no hard sell that said, "Come on, board now, before it is too late."
"Woody takes the long-term approach," said Spencer Zwick, Mr. Romney's national fundraising director, "which is, 'We need all of these people. Maybe they are working for another candidate today but I am very optimistic Mitt is going to be the nominee, so I can let them know that when their candidate sinks we are going to welcome them on.'"
Five months later, Mitt Romney is indeed the nominee, and his fundraising is going gang green busters: close to $300 million already, leaving President Barack Obama lamenting to supporters that he is at risk of being the first sitting president in modern American history to be outspent. And nowhere has Mr. Romney scored better than in New York City and points nearby. There was the $3 million haul in the Hamptons last weekend. A $10 million tristate swing in May. Three million dollars from a series of fundraisers in March, back when the governor was still struggling to dispatch his Republican rivals.
And at the center of this record fundraising has been Mr. Johnson, who was by Mr. Romney's side nearly every time he swept into the area, often introducing him at the various soirees, and who has quietly emerged as perhaps the single most important Republican between here and Boston.
"He is exuberant about this role," said Rick Lazio, a former congressman and key fundraiser and organizer for Mr. Romney in both 2008 and now. "You can see why he owns a football team. He loves the competition. He loves the rah-rah camaraderie. He is all in on this campaign. I think he is the indispensable player in New York City."
It is nearly impossible to keep the football metaphors from pouring out when talking about Woody Johnson's role. He bought the Jets for a seemingly absurdly high $635 million in 2000. In the 12 years since, their value has doubled, and the team has had what it is perhaps their most successful run on the field in its history.
"It's almost this football mentality with Woody," is how Mr. Zwick described it. "He knows that everybody in the field has a very important role and not everybody is going to score a touchdown. But there are different roles and one of the roles of the campaign is to provide the resources so that the campaign team can get the message across. He is not a lineman who wants to be a quarterback."
"As Woody sees it, we have a world championship, Super Bowl country with very, very poor management," said Anthony Scaramucci, a hedge-funder friend of Mr. Johnson and a top Romney donor.
In Mr. Johnson's sleek, modernistic Rockefeller Center office suite—think Mad Men's Roger Sterling's digs updated slightly for the 21st Century—the walls are decorated with photos of him with Jets quarterback Mark Sanchez, autographed Jets helmets, game balls, a framed note of appreciation from former running back Curtis Martin.
And after causally mentioning that he had considered purchasing this reporter's newspaper a few years ago, the football metaphors tumbled out of Mr. Johnson's mouth, as well.
The reason Mr. Romney struggled at times in the primary is because "the caucus-goer, the primary-goer, is like, in football, the fan that is avid. The avidity level is higher. So the points of view are more polarized then you get in a general election," he said.
The economy will improve under Mr. Romney because "it's like changing coaches. [Jets head coach Rex] Ryan came in and we were 25th in the league in defense. We changed the coach and we were number two in the league in the defense. Same with presidents."
And further:
"One of the reasons Coach Ryan was successful is that he believed in his defense. He said, 'You are a great defense.' And he said that day one, we've got the best defense in the league. We were 25th in the league and he said, 'I've got the best guys here' and you know what? It turned out that way. And I think when Mitt Romney is president it will be the same thing, because he knows how to do this."
And when Mr. Romney went looking for a local finance chairman, Mr. Johnson was, according to Mr. Lazio, "the number one draft pick—a franchise player."