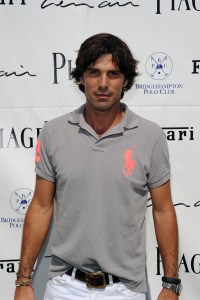 The next weekend marked the Bridgehampton Polo Club's kick-off to the season, and it was a special occasion: the first time club co-founder Peter Brandt would team up with polo superstar Nacho Figueras. As we arrived at the tents, I asked Mr. Brandt when the games would begin.
"Oh, it's much too wet to play today," he replied. Instead, we would spend the day drinking while listening to someone sing "The Star-Spangled Banner" and speculating about whether Tom Cruise was going to show up with Suri. (He never did, but Dina Lohan was spotted mingling around the Ferrari-sponsored tent.)
We found Mr. Figueras at Bridgehampton Polo's VIP tent. The Argentinean star was more attractive in person than he was in the Ralph Lauren ads.
"How do you not die during polo?" I asked, one seasoned pro to another.
"I've been playing since I was a little boy," Mr. Figueras said. "I grew up on horses, so I'm very comfortable. That's how I don't die."
There's the takeaway, then: Parents, when your child asks for a pony, say yes. You might just save a life.