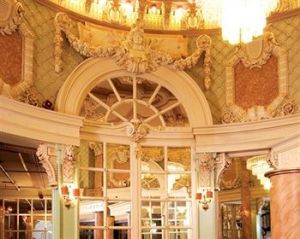 Reasonably priced accommodations in Midtown? Haunted hotels? We thought that these things existed only in the movies! But no, the New York Daily News reports that visitors can experience both—at the same time—at the Wolcott Hotel on West 31st Street.
Fortunately, the historic building, built in 1904, is no Overlook Hotel. The ghost stories are more spooky bedtime story than modern horror movie—two phantom children who like to play at the top of the lobby stairwell and sounds of music that float mysteriously from the staff cafeteria.
"Usually, people get scared by that kind of thing," owner Scott Erlich told The Times. "Here, it's part of the charm. It happens once every few years. This is a great old building. So much of New York happened here."
Sadly,  former visitors include Edith Wharton and Buddy Holly are not known to haunt the hotel.  In any event, it's heartening to learn that places like the Wolcott still exist in Manhattan despite the arrival of
ponytail salons
and
Greek yogurt bars
.
kvelsey@observer.com