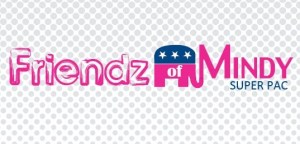 Mindy Meyer, the brash 22-year-old self-proclaimed "diva" running for State Senate in Brooklyn, told The Politicker she has nothing to do with a "Friendz of Mindy Meyer" "super PAC" that released a campaign web video and created a Facebook page on her behalf.
"That's some scam because we never did that," Ms. Meyer said.
The "Friendz of Mindy Meyer" campaign video features footage of Ms. Meyer culled from the many media appearances she has made since her blinged out, pink official website propelled her to viral stardom last week. The clip also boasts Ms. Meyer's trademark "I'm Senator And I Know It" remix of the electropop duo LMFAO's hit song "Sexy And I know It."
Ms. Meyer said she isn't releasing any ads at the moment because of all the press attention she has received, but we may see a genuine campaign commercial for her sometime soon.
"So far, my life is filled with enough advertising with all the media nationally and internationally, so we didn't actually put out any ads yet," said Ms. Meyer. "We're thinking of doing that closer to the election, because right now, we have extensive press coverage, so we did not make any ads yet."
Watch the "Friendz of Mindy Meyer video below.
[youtube http://www.youtube.com/watch?v=0nWWHEm9LRw]