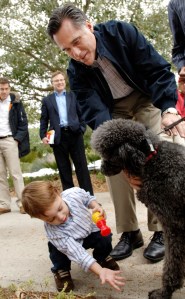 The infamous incident where Mitt Romney put his dog in a crate tied to the roof his station wagon during a family road trip in 1983 made a surprise appearance in an Oregon courtroom last week. A defense attorney representing one of two men who was charged with animal abuse after they dragged a pitbull behind a car for several hundred feet after tying the dog to the outside of the vehicle and forgetting to let it back in before driving off invoked Mr. Romney's story to argue everyone makes mistakes sometimes.
"Our presidential candidate tied up a dog and drove off with him for quite a while," the lawyer, Lisa Pardini, said.
Multnomah County Circuit Judge Kenneth Walker was not swayed by Ms. Pardini's argument and said he "probably" would have convicted Mr. Romney of animal abuse.
"I would have probably found him guilty for that," Judge Walker said.
The pitbull, Rhino, lost his toenails and suffered cuts on his paws during the incident, which occurred in May, he has since made a full recovery.  Judge Walker found the men not guilty because, though he found them negligent, he said he did not believe they were reckless.
The tale of Mr. Romney's dog, Seamus, has haunted him through two election cycles. It first emerged in a 2007 Boston Globe profile. Since then, it has inspired protests, canine clothing and, most recently, a game.