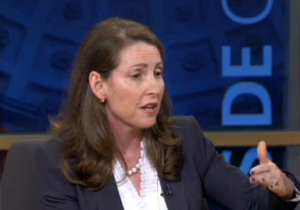 Eva Moskowitz, the head of the Success Academy Charter Schools and a political lightning rod in the charter school debate in New York City, has already announced she's not going to run for mayor in 2013, but that doesn't mean she's uninterested in the race.
"I'm concerned because we need a mayor who is pro-parent choice, who is pro-reform, who wants to go forward rather than roll back the clock," she said on Inside City Hall last night. "Some progress has been made under the Bloomberg administration — not as much certainly as I would like — but we need more progress, not less progress, and so I am concerned."
Ms. Moskowitz argued that the leading 2013 mayoral candidates have failed to articulate an educational platform.
"What I find is a little surprising is that they have not spoken about what their views are. I've heard a lot of what they don't like about the Bloomberg administration, but what are they for?" she asked. "If Bill de Blasio becomes mayor, what is he going to do? What is his positive, forward-looking vision?"
She proceeded to tick off problems in our school system, including poor literacy levels and weak graduation rates in a number of schools.
"How are those candidates going to solve that problem?" she again stressed. "What I would hope is that they would start to speak up rather than speaking in a blame game."
Ms. Moskowitz concluded by hinting the teachers' union may be the controlling interest in how the candidates' platforms do eventually take shape.
"I'm hoping that the teachers' union is not dictating the educational policies of the mayoral candidates, they need to think for themselves and they need to think about what's good for kids and families."