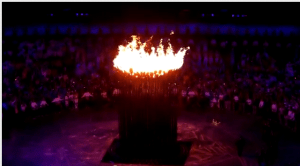 Slumdog Millionaire director Danny Boyle crafted an epic opening ceremony for the 2012 Summer Olympics. It was filled with uniquely British pageantry, drama, great music and classically quirky humor. At least American audiences afflicted with NBC's tape-delayed coverage of the Friday night spectacular think Mr. Boyle accomplished this. We can't be sure, because the consensus online seems to be that NBC's tape-delayed coverage of the Opening Ceremony was terrible. Screen Rant was pointed:
Appropriately complaining about not being able to watch the Olympic Ceremony live with the rest of the world, many complaints quickly turned to the abundance of commentary that was provided by Today Show hosts Meredith Vieira and Matt Lauer – and later NBC Sports commentator Bob Costas, taking over for Vieira. Stepping over many of the beautifully crafted moments of the Opening Ceremony, it was almost impossible for anyone to have appreciated Boyle's carefully planned program the same way they could have if it was aired live, uninterrupted, and without such substantial commentary.
Criticism of Matt Lauer, Meredith Vieira and Bob Costas on social media outlets like Twitter was blunt. British journalist and broadcaster Charlie Brooker noted one peculiar wince-worthy quirk in the coverage:
Tell you what though, Britain. You'd love the NBC commentary.Ceaseless, grim list of just how troubled each individual nation is.

— Charlie Brooker (@charltonbrooker) July 28, 2012
Buzzfeed's Andrew Kaczynski was straightforward:
This NBC color commentary is exceptionally bad.

— Andrew Kaczynski (@BuzzFeedAndrew) July 28, 2012
Mr. Kaczynski later linked a video clip (now removed from Youtube) that demonstrated how amusingly bad the commentary was. Referring to a scene with  current James Bond Daniel Craig that culminated in Queen Elizabeth appearing to parachute into the venue from a helicopter, Meredith Vieira seemed unaware of the etymology of the term "money shot," saying, "… [The] money shot tonight, the one that I think went viral, was the one with the Queen."
NBC's decision to not offer a live stream of the ceremony was, in hindsight, made for the worst possible reason. The broadcaster's explanation, as reported by the Los Angeles Times:
"We are live streaming every sporting event, all 32 sports and 302 medals," an NBC spokesman wrote in an email to Show Tracker. "It was never our intent to live stream the Opening Ceremony or Closing Ceremony. They are complex entertainment spectacles that do not translate well online because they require context, which our award-winning production team will provide for the large prime-time audiences that gather together to watch them.
The "context" provided wasn't confined only to using terms more common to porno flicks to describe a scene involving the Queen. Meredith Vieira confessed at one point (with no apparent embarrassment) that she'd never heard of the creator of the World Wide Web, Sir Tim Berners-Lee. HuffPo's Ethan Klapper recorded the moment for posterity. (Update: by Saturday afternoon Vimeo had removed the video clip of Ms. Vieira's commentary, which was originally embedded below.)
Other enjoyable moments of "context" as witnessed by the Observer:
– Bob Costas, noting that Luxembourg is actually the Grand Duchy of Luxembourg, innocently asked, "why don't they march in the 'g-spot'?" Mr. Costas was referring to the nation's proper alphabetical position as its Olympians entered the stadium.
– Mr. Costas's "context" for Australia: the country was "originally founded as a penal colony…"
In a serious vein, Deadspin reports NBC also censored a tribute to the victims of the 7/7 terrorist attacks and aired a Ryan Seacrest interview with Michael Phelps in its place.
Emma G. Keller, writing for the Guardian, said the Peacock turned three and a half hours of action "into four and a half hours of tedium." Noting that #nbcfail had begun trending on Twitter, Ms. Keller wrote that the hashtag was "an award rightly earned."