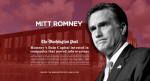 Obama for America today is out with a new ad that continues the attack on Mitt Romney's record at Bain Capital.
Titled "Believe," the voiceover for the spot intones, "What a president believes matters," and launches immediately into a hit on Mr. Romney: "Mitt Romney's companies were pioneers in outsourcing US jobs to low-wage countries.He supports tax breaks for companies that ship jobs overseas."
The ad then describes. Mr. Obama's commitment to "insourcing" and building the nation's manufacturing base.
The ad comes as Democrats and pundits of all stripes remain divided on the effectiveness of Mr. Obama's attacks on Mr. Romney's career at Bain. High profile Democrats like Bill Clinton and Cory Booker criticized the attacks, but polls have shown that they have weakened Mr. Romney.
Michael Levoff, a spokesman for the Romney campaign, disputes the Obama campaign's characterization of Mr. Romney's Bain record, pointing to an independent fact-checking organization which found the claims misleading:
The Obama campaign continues to try to mislead voters with ads that independent fact checkers have repeatedly proven to be false. We are happy to put Governor Romney's record of job creation in the private sector, and as governor, up against President Obama's any day. Spending millions of dollars on untrue ads won't change the fact that President Obama's policies have left more than 23 million Americans struggling for work.
The ad, which is set to air in Colorado, Florida, Iowa, North Carolina, New Hampshire, Nevada, Ohio, Pennsylvania, and Virginia can be viewed below:
[youtube http://www.youtube.com/watch?v=I1pPFlcGav4]