With tongue placed firmly in cheek, New York's street artist Hanksy has built a career out of poking fun at the self-serious subversives in the gallery graffiti circuit. Even his name is a satirical homage to the British Banksy, with Hanksy being a shortened tag for "Tom Hanksy."
Picking subjects more pop than political, Hanksy has focused his art on animals and celebrity mash-ups: like the hilarious Ferrell Cats, or the pun-y "Pie Hard" stencil in Bushwick.
If Banksy's monkeys are telling us, "Laugh now, because one day we'll be in charge," than Hanksy's message might be better summarized as, "Laugh now, because this is funny."

His latest work uploaded several hours ago on his Tumblr, might not have everyone chuckling. Found on the corner of Orchard and Ludlow, Hanksy's new piece shows a monkey with the face of George Clooney eating a banana. Above the graffiti is the phrase "Bi-Curious George."
Word travels fast: the photo has already been picked up by The Huffington Post, which is quick to point out that Hanksy (who is represented by the Krause Gallery) has already clarified on Twitter that his piece was not meant as a homophobic knock against the perennial bachelor.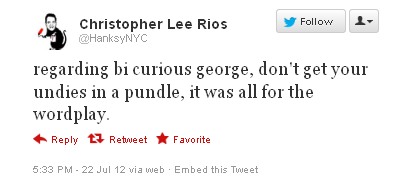 (The Inception layers of word play don't stop there: Hanksy's listed alias on Twitter–"Christopher Lee Rios"–was the real name of Puerto-Rican rapper "Big Pun," who died in 2000.)
Plus, we all know how much George Clooney loves a good prank(sy) himself.