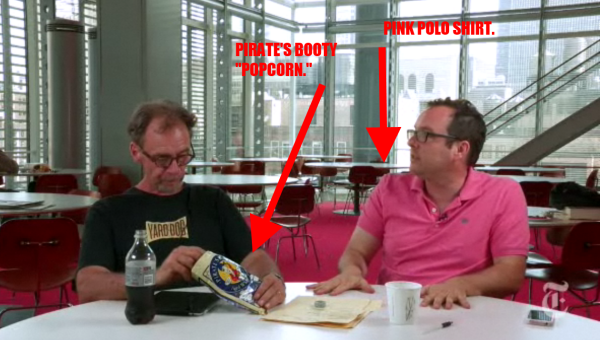 New York Times mediacreature David Carr and Toby Turtle doppelganger A.O. Scott recently taped another video in a series not titled "Old Timesmen Telling Jokes," which is not set to premiere off-Broadway this fall. Previously, these two geriatric culture anthropologists discovered Brooklyn, The Brand, the phenomenon of dead pop stars, and pissed off celebrities on Twitter. Now, they delve into the "guilty pleasures" of the New York Times.
"For a high-minded bunch, they sure like a lot of crap," notes Carr of the Times staff, as he eats out of a bag of Pirate's Booty next to an empty bottle of Diet Coke.Of course, we all know that the "guilty pleasures" of those who work at the New York Times denote a sense of "guilt" over the plain-old "pleasures" of most normal folk in the Western Hemisphere: A sense of guilt allows us to feel above something while engaging it with an ostensible sense of detachment, which, let's face it, is never the case. A.O. Scott notes that some things are "inherently disreputable." Like smoking? Try Carly Rae Jepsen, comics, video games, and so on. 

Also loved by A.O. Scott:
Jersey Shore
"Call Me Maybe"
Pink Polo Shirts (See Above)
Angry Birds
Watching People Read 50 Shades of Gray on the subway.
Katy Perry (of who David Carr challenges A.O. Scott to defend, further giving credence to the theory that Carr is from an alternate universe where joy is a scarce resource).
And that David Carr loves:
The New York Post and Page Six.
Gawker (not news).
Girls (as a Dirty Old Man).
Furthermore:
Reporter Tanzina Vega: "Anything that has a wives in it. 'Mob Wives,' 'Basketball Wives'…"
Staff Editor Christopher Phillips: Bravo's 'Tabatha's Salon Makeover.'
Sunday Book Review editor Sam Tanenhaus: "Endlessly watching James Taylor and Carol King do a duet on 'You've Got a Friend.' And of course, there's always Proust." Yes: Proust.
News Assistant Suzanne O'Connor: "'Sunday Morning VH1 Pop Music Countdown.'"
Staff Editor David DeWitt: "A few days ago I downloaded a Partridge Family song."
Reporter Larry Rohter: "I like Abba still, after all these years."
Media Editor Bruce Headlam: "Yes was the second love. Absolutely. Right through Tales of Topographic Oceans." David Carr giggles in background. "Double-album. Four sides. Four songs." [Ed. Carr is laughing because he just realized Headlam has likely taken acid more than once.]
Reporter John Schwartz: "'Game of Thrones', which I like to refer to as 'Tolkien: After Dark.'" [Ed. Actually a funny answer, because it's a softcore porn joke, is why.]
Staff Editor Lisanne Renner: "Old episodes of 'Get Smart'."
Staff Editor Ken Jaworowski: "Stephen King novels."
Staff Editor Mike Lewis: "I like to listen to Jimmy Buffett." [Ed. Our favorite one, by a long shot.]
Culture Desk Copy Editor Ron Wertheimer: "I love 'Antiques Roadshow.'" [Ed. Sorry, but nothing on PBS can remotely be considered a guilty pleasure unless you're watching old episodes of 'Lambchops.']
Dealbook editor Andrew Ross Sorkin: "Bethenny Frankel." [Ed. He would.]
Reporter Jan Hoffman: "Borges." [Ed. Not entirely sure if she said 'Borges,' but if she did, this is either the most brilliant or despicable answer given.]
Assistant Managing Editor Rick Berke: "'Desperate Housewives.'" [Ed. If you watch this video for anything, watch it for the serious-as-cancer manner with which Berke says these two words.]
Reporter Tom DeKay: "I did watch 'Friends' last night."
National Editor, Erstwhile Dining Critic, and Hipster Aspirant Sam Sifton: "I'm really into that 'Call Me Maybe' song. A lot. A lot." [Ed. Sifton is a untenable liar. The 'That' implies some level of unfamiliar with what is encountered. Like you haven't danced to this in the mirror, you lying fiend.]  
Staff Editor Nicole Herrington and Editor Alice DuBois: "'Call Me Maybe.'" [Ed. DuBois notes her lack of shame. She is the only one to make this point when put on the spot!]
Poor Dave Itzkoff probably put his head through drywall after watching this. Also, this feels somewhat incomplete without the participation of Al Siegal (potential answer: "#2 Pencils").
We've saved you the work of watching it, but it actually is a fun little video, if anything, because you get to see a decent cross-section of the (old) people who make the Times. Watch here.
fkamer@observer.com | @weareyourfek