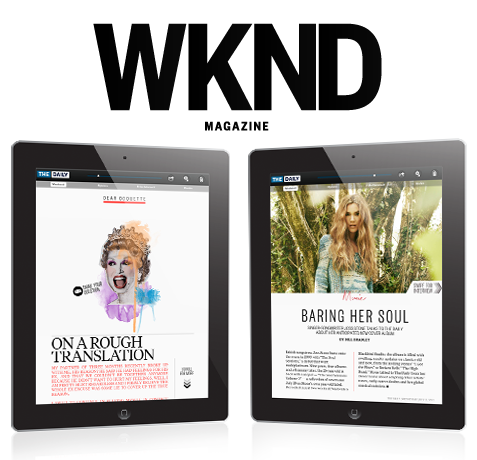 Despite reports that iPad tabloid The Daily is on News Corp.'s budgetary chopping block, it's not slowing down, editorially speaking.
Today The Daily introduced WKND, a new weekend magazine supplement set to launch tomorrow. Judging from an announcement on The Daily's Tumblr, it appears to be a cross between the Huffington Post's feature app, Huffington. and The Wall Street Journal's magazine supplement, WSJ.
WKND is filled with food porn, celebrity playlists, photos and travel tips to exotic locals, plus everyone's favorite DIY projects. Our best features throughout the app will run all weekend, so you'll have more time to read them.
Adding a magazine sounds like a smart move. Last year, a study produced by Read It Later found that iPad users tend to time-shift their tablet reading to the leisure, after dinner hours, when they've already heard the news of the day (predominantly on their computers, over the lunch hour) and might be in the mood for longer, lifestyle features. Those stories are well suited to the iPad's strength (photo display), and the magazine will give a longer shelf life to expensive and high quality stories that would previously disappear as the app was refreshed each day.