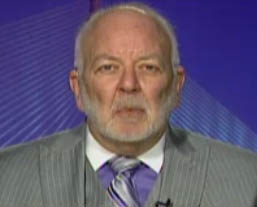 Have you heard the one about the time Dick Bove walked into a Wells Fargo branch, and his banker walked out? Which was awkward, because Mr. Bove is the Rochdale Securities analyst who's rarely met a bank stock he didn't love. And apparently, marked the first in a series of poor customer service experiences that led Mr. Bove to vent in a note published yesterday:
Dick Kavacevich, Wells' retired CEO, often told me that he recognized that for many people going to the bank was the only financial transaction that they were ever involved in. For the elderly, it was also a social call. Therefore, Mr. Kovacevich felt strongly that customers should be greeted when they entered the branch and that the visit should be a positive experience. I can honestly state that no one ever greeted me when I entered my local branch.
That type of experience posed a conundrum. On one hand, Mr. Bove considers Wells Fargo one of America's best-run banks. On the other, his personal-banking interactions with the institution have been "unacceptable." What's more, Wachovia, where Mr. Bove once did his banking, "excelled" at customer service. Of course, that bank failed. "What my Wells Fargo experience suggests is that a successful bank is one that keeps seeking new customers and selling them more products and not getting bogged down by offering service," wrote Mr. Bove.
Some other beefs:
Treated like a small fry. "I entered the branch with a low six figure check. …It is interesting to note that no one at the branch suggested any investment to me but simply deposited the check. No one ever called me to indicate that there was over six figures sitting in a no interest checking account. The lack of contact on this issue is directly contrary to the bank's statements to analysts that these amounts are flagged and cross-selling options are suggested."
Loan application runaround. "After four months of providing information, and a new round of questions, I decided I had, had enough and I withdrew my application for refinance. A week later Wells sent me a note saying that it was denying my refinance application. This of course has an impact on my credit rating."
Unexplained fees. "There is now a Commercial Personal Finance Access fee that is charged monthly on my personal account. I have no idea what this is and simply pay it rather than get involved with Wells bureaucracy. Additionally there is a fee that gets charged every month and then withdrawn. There is no explanation for what is happening here either but as the saying goes 'let sleeping dogs lie.'"
It doesn't take much squinting to hear those words coming from the mouth of a consumer advocate, so for the heck of it we called Ed Mierzwinski, the consumer program director at U.S. PIRG, who didn't know who Mr. Bove was/hasn't been watching much Bloomberg TV. "The big banks have a commodity product and they sell through advertising and ubiquity," Mr. Mierzwinski said. "I think the façade around the banks is starting to crumble and I think that this analyst is picking up on it."
Mr. Mierzwinski added that smaller banks and credit unions might offer a friendlier experience, though that advice arrived too late to do our protagonist any good.
"I must admit that I have been closing accounts that I have had with Wells Fargo and moving the funds to JPMorgan Chase (JPM/$34.47/Under Valued)," he wrote. "This bank is attempting to penetrate the Tampa, Florida market and is actually providing a service that is equal to the service once offered in this market by Wachovia."