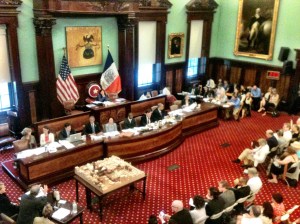 The City Council's public hearing on New York University's Village expansion plan drew a crowd on Friday that was notable for both its size and its star power— Matthew Broderick offered testimony on the neighborhood's quickly eroding quirkiness—and its eagerness to communicate its distaste for the controversial project.
In fact, the City Hall hearing filled up so fast that eager attendees had to line up outside the door, waiting until someone left the room before they were allowed to enter. The Observer watched as one sign-bearing group debated queuing up in the punishing heat before deciding against it.
"Let's just come back," said one of the women. Nodding in agreement, her companions headed back onto the street with their yellow 8" x 10" laminated "Wrong for NYC-Wrong for the Village-Wrong for NYU" posters.
Inside the council chambers, community and council members spoke about the plan's flaws, expressing doubts that the plan—a multifaceted project that calls for the construction of new buildings, open public spaces, and facilities such as student housing and retail stores in the Greenwich Village area totaling more than 2 million square feet on two already-developed superblocks south of Washington Square Park—was as "perfectly balanced" as City Planning Commission chair Amanda Burden claims it is.
"NYU does not have the best track record when it comes to upkeep and maintaining a space," said Council Member Margaret Chin, who represents the district where NYU's current and proposed home are located. "I strongly believe this plan is unacceptable in its current form."
"NYU would not be where it is today without the pioneers who built Greenwich Village," she added, eliciting a flurry of "jazz hands" (instead of applause) from the audience of villagers. Ms. Chin cited a number of concerns about the project, including the loss of public open spaces and the difficulty of maintaining affordable housing. She said that she felt it was important that the community retain some sort of decision-making power. Given Ms. Chin's authority in the neighborhood, such issues are likely to be central to any concessions that the council demands from NYU in exchange for project approval.
Other council members were equally skeptical, if not altogether opposed, to the university's expansion plan. Council Member Jessica Lappin, leery of NYU's motives, questioned the inevitability of the argument that the university needed more space. "You have made a choice to have a very large undergraduate population and my question is why you have chosen to grow to such a large number of undergraduates?" she asked members of the university administration.
Council Members Leroy Comrie and Gail Brewer asked questions about the design and aesthetics of the proposed campus, focusing on how the ambiance of the Village would be maintained and how the neighborhood's mix of shadow and light would be affected by the new buildings.
Assembly Member Deborah Glick and State Senator Tom Duane were sharper in their criticisms. Ms. Glick lambasted the institution for its "complete disregard and betrayal of community planning," while Mr. Duane warned of possible future problems. "Don't put us in a position of disliking a place that we have lived within in good times and bad times," he said. "Don't make it a battle from this point."
The sentiments expressed during the public comment portion— which consisted of testimony from 200 people, the majority of them neighborhood residents or members of local organizations like Villagers for a Sustainable Neighborhood—were equally opposed to the plan. And David Gruber, a chairman from Community Board 2, pointed out that it isn't just the community that opposes the development: 34 departments within the university also publicly oppose the plan. "Not 34 professors, but 34 departments," Mr. Gruber noted. "So we really have to question the validity of this plan."
Mark Crispin Miller, a professor of media, culture, and communication at NYU, who was also at the hearing, spoke on behalf of other "stalwartly opposed" NYU faculty members. NYU's 2031 Expansion plan, he said in an email to the Observer is "something that has never happened in the history of NYU's expansion in the Village….NYU's finances are a mess—despite John Sexton's vehement claims to the contrary."
NYU President John Sexton defended his plan before the council, saying that the $4 to $5 billion dollar plan was "designed to be as little intrusive as possible" and was necessary for the university to continue too thrive.
"If we become too disparate, the fact that we don't have a campus, that we don't do big time athletics, that we don't have a football stadium, would disable us from attracting students who have as an option going elsewhere where they have those elements," Mr. Sexton told the Council. The NYU Expansion, he said, would expand the institution's core and create a more cohesive central campus.
The City Council is scheduled to vote on the NYU's Village Expansion plan later this summer.
jschiewe@observer.com