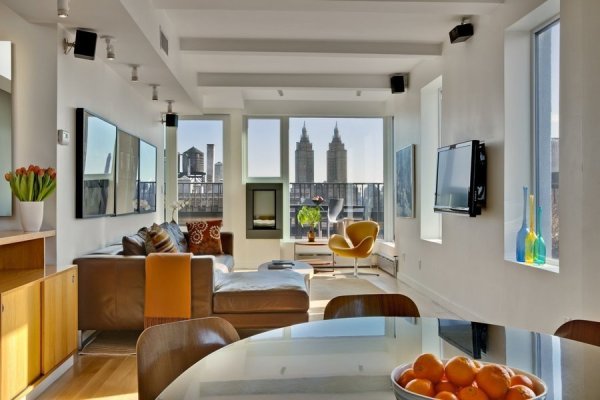 Pat Kiernan might not be taking over Regis Philbin's spot at "Live! With Kelly," but at least the cultishly-popular NY1 anchor can console himself with the $3.8 million that he just made on the sale of his Upper West Side penthouse, according to city records.
Even if Mr. Kiernan and wife Dawn did set a neighborhood record when they paid $2.05 million for their new house in Williamsburg, the couple will  have more than a little extra pocket change from the sale of the four-bedroom co-op at 215 West 75th Street.
The buyers, Mary Haviland and Thomas Neff, who list their current address as Lyme, Conn., paid only a little under the $3.95 ask for the apartment, which the Kiernans built out of a collection of maid's rooms and a superintendent's apartments that they bought in 2001.
Mr. Kiernan had, apparently, tired of looking down on the city from on high and wanted to be among the people on Bedford Avenue, living in a siding-clad townhouse that he admitted to The New York Times was not "a trophy property from the front."
The couple's 75th Street penthouse, on the other hand, has an impressive 800-square-feet of outdoor space and views that mimic the city backdrops of a nightly news broadcast. The house appears to have gone on the market in February, although the listing is no longer available.
Such a change, while cementing Mr. Kiernan's place in the hearts of New Yorkers, may have indicated to producers that he wasn't snooty enough for the likes of the show, given that previous host Regis Philbin considered a move to the Upper West Side slumming it.
kvelsey@observer.com