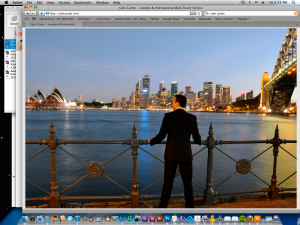 I'm not going to sleep with Darren. I'm not going to sleep with him. I'm not.
I am in professional mode, despite the fact that for all intents and purposes I am on a "date" with a paid escort. Darren, sporting a straw fedora and very tight shirt, met me at a Brooklyn restaurant known for its trendy southern comfort food and politely pulled out my chair.
I knew what I was getting, having perused photos of Darren and his colleagues on the website where he peddles himself to female clients. In the pictures, his muscular chest and abs glistened like sweaty chocolate. There were rows of other male models and former athletes to choose from, all shirtless and squinting at the camera. One can rent them for $550 for two hours, $1,000 for four, or $2,000 to stay the night. The owner of Darren's agency, 'Cowboys 4 Angels' interviews clients before a date to find a good match. He fixed me up with Darren knowing that I was a journalist—one without an expense account—but making me promise I'd treat the meeting less as an interview than an … experience. A freebie. A gift.
At the table, Cowboy Darren's knees graze mine. I begin to I tease him a little. "Most of you guys can't actually make money doing this, right?" He leans back in his chair. "I can tell you what I make a month," he tells me with fixed eye-contact. "About $3,000, from only a few dates." Escorting isn't Darren's only gig, he has a steady job working for the city—this is "fun money," he explains.
Most of his fellow cowboys work in the service industry or as massage therapists.
Cowboys 4 Angels is also the escort agency featured on Showtime's reality series Gigolo. That program, HBO's drama Hung and the recent film Magic Mike, seem to have accelerated a growth in the M4W escort industry, as have online clearinghouses like Backpage.com and Concierge Du Monde, an online forum where female johns (janes?) can interact with each other and rate various services. But what really seems to be driving the trend is 50 Shades of Grey.
Hits to the website for maleescortsusa.com have increased by 50 percent since the book's release, as have the numbers of escorts looking to sign up, according to a representative. Escort Pierce Urban has seen a similar increase in bookings, noting that clients are increasingly paying to fly him around the country. "And they've all read the book," he said.
A rep from menforhire.com agreed that "the book has ignited a spark of curiosity with regards to desires women may not have been aware of previously, and a male escort is a perfect way to explore this." Many, she added, have been emailing with special requests for dominant guys and wondering just how far things can go."
Concierge Du Monde is where I found London-based casanova Cole Carter. His website reads: "He's not your cardboard cut-out male escort but a man of greater substance, someone who you can laugh and dream with." A date with him lasts 24 hours, minimum. "What I am doing is playing to my strengths, which are forming connections and listening to people's stories," he said via Skype. "What can you sell about yourself to women? If I was an hourly escort I would have big muscles and a big cock and all. But that is not what I am selling." Carter offers the boyfriend experience. "Women are emotional creatures," he said. "Very few pick a male escort solely based on looks." Photos show Carter as a tan Asian in dark rinse jeans and a tucked in white shirt. Thin but not toned. Nice looking.
Carter usually meets clients in a hotel lobby, bar or coffee shop. "These women are nervous as hell," he said. The important thing, he said, is to make the date feel comfortable and to be lighthearted. "The woman will be paying thousands of dollars and picking up all the tabs, but she does want you to take the lead," he added. Which gets tricky with sex. The client may be overturning traditional gender roles by paying for it, but she generally still expects to be seduced.
"You can't propose sex right away," he said. "Sometimes it seems funny—they've spent all this money! And yet they are not gonna verbalize what it is they want."