The story of PFGBest gets stranger every day. First, the Iowa-based futures brokerage announced it was freezing client accounts after founder and sole owner Russell R. Wasendorf attempted suicide. Then the National Futures Association, the designated self-regulating organization for PFG, alleged that the firm was missing more than $200 million in supposedly segregated client funds
Mr. Wasendorf's story became more fascinating at every turn. He said he'd anticipated the Black Monday stock market crash of 1987 and used profits made shorting futures to expand his business. He styled himself as a thought leader for the futures industry, writing books and articles, commenting frequently in the press. He moved his firm from Chicago to Grand Falls, Iowa, where he built a company headquarters that everyone seemed to describe as a "compound." He'd lost millions in Romanian real estate, he'd asked Styx to play at his wedding (scheduled for August, though he and his betrothed tied the not in Vegas at the end of June).
What's fascinated us from day one the question of how Mr. Wasendorf perpetrated his fraud. The NFA had noted that a PFG bank account had been missing about $200 million in client funds as early as February 2010, and we wondered why it took auditors two-and-a-half years to catch the discrepancy. Then Reuters reported that Mr. Wasendorf had set up a fake post office box to intercept documents intended for U.S. Bank, where he told regulators that client accounts were kept, and was only caught when the regulator adopted a system for electronic reporting. Now, Mr. Wasendorf has been arrested, and portions of his suicide note are included in the criminal complaint:

Which, we've remarked before, sounds like something an enterprising grade school student might do to keep his parents from receiving a truancy note. And: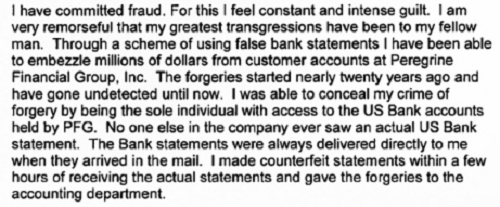 At which point, we know an awful lot, though we're still inclined to wonder whether the firm's auditors ever thought to check the P.O. Box to which they were sending documents, or better, if U.S. Bank ever wondered why it wasn't getting regulators' document requests.