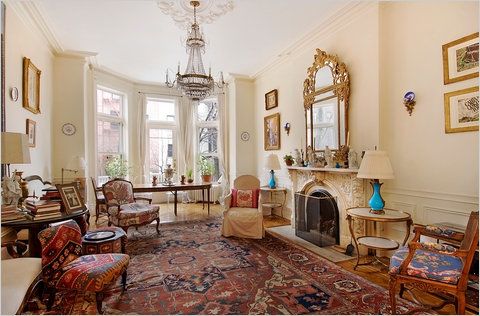 It may not set any records for the neighborhood, but photographer Romaine Orthwein's decision to spend $5 million for a Brooklyn Heights townhouse shows that luxury buyers' summer shopping spree is not limited to Manhattan.
Ms. Orthwein, who has a penchant for shooting apartments under renovation, apparently had no interest in a fixer-upper for herself.
The six-bedroom home she just bought at 281 Henry Street from Charles Adam Yates Thompson is said to be "lovingly and tastefully restored in every way," according to the listing, held by Corcoran brokers Ellen Newman and Lisa Detwiler.
It makes perfect sense that Ms. Orthwein would settle somewhere as storied as America's oldest suburb, Brooklyn Heights: her great-grandfather was Adolphus Busch, a founder of Anheuser-Busch, and her mother was once married to an English marquis, while her father, James Busch Orthwein, is the former owner of the New England Patriots.
In her new home, the sudsy scion will enjoy five working fireplaces (and three ornamental ones that do not light), as well as floor-to-ceiling windows in the living room and a central oval staircase.
The home, originally listed at $5.65 million in February 2010, lingered on the market for some time before being scooped up by Ms. Orthwein, who payed a smidgen over the $4.95 million ask. (Doesn't it usually go the other way with homes that have been on the market for more than a year?)
At least Ms. Orthwein will have no trouble decorating.
"I am a very good nester," she told The New York Times in 2005. "I imprint myself strongly on my environment, like my mother did. It is what I remember about her. She made rooms in different colors: the blue room, the green room, the red and so on. She was very visually gifted. She had exquisite taste in clothes, art and furniture."
Now Ms. Orthwein has enough rooms to have her own blue room, green room, red room, and so on.
kvelsey@observer.com