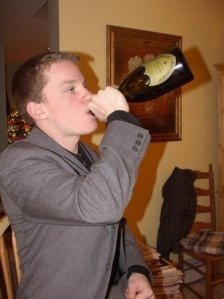 Newburgh police arrested a finance professional named Edgar Repko Jr. last week wearing a Mr. T mask and using a crow bar to break into a pharmacy, according to newspaper reports. Mr. Repko has worked at Merrill Lynch, Primary Capital and Spartan Capital, according to Business Insider, and was dismissed from Avalon Partners amid allegations that he took proprietary information from the firm. From the Times Herald-Record:
Police say they caught a Town of Newburgh investment banker in a "Mr. T" mask breaking into a pharmacy Wednesday morning—the same pharmacy he allegedly stole drugs from last week while wearing a Mike Tyson mask."

Officers Derek Campbell and Laura Frisenda were patrolling at South Plank Road and Route 300 about 1:30 a.m. Wednesday near businesses that had been burglarized in the last few months. They spotted Edgar Repko Jr., 29, in dark clothing walking down South Plank Road.

The officers lost sight of him, but began checking businesses in the area. That's when they heard noises near the back of Signature Pharmacy at 181 South Plank Rd.

Police said they found Repko wearing a rubber "Mr. T" mask and using a pry bar to get into the pharmacy. He ran toward Cinema 10, but was nabbed by Campbell and arrested.

Repko is also charged with burglarizing the same pharmacy on July 5 at 3:30 a.m. In that case, police said they caught him on video wearing a Mike Tyson mask, which they found tossed in the bushes. Police said he stole drugs, including Xanax and hydrocodone, in that burglary.
"Chances are you don't like me," Mr. Repko writes on his Facebook page, which is still public.