Flanked by two beverage beauties.
Protestor Danny Panzella holds a sign reading "My Body My Choice."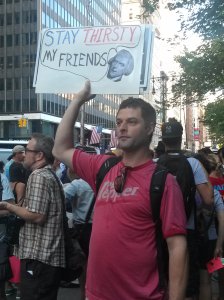 "What're they going to tell us next? Are they going to get in the bedroom?" asked 19-year-old Zach Huff. The spokesperson for NYC Liberty HQ, barely tall enough to reach the microphone, was cheekily addressing a small group of rather tame demonstrators amassed in front of City Hall Monday for the Million Big Gulp March, a rally protesting Mayor Mike Bloomberg's proposed ban on large sodas.
If passed, the ban would prevent restaurants, delis, movie theaters and street carts from selling sugar-laden drinks that exceed 16 ounces. The protesters were, in a sense, advocating on behalf of beverages that contain 25 percent of one's recommended daily caloric intake.
We stood waiting for some small eruption of jeering or whistling from the crowd in reaction to Mr. Huff's aside. Nothing. Perhaps the lackluster response was a result of his bizarre logic leap from soda ban to bedroom play. Or maybe he hadn't quite lowered the microphone enough to be heard above the slurping.
Andrea Herbert, a protestor from Midtown Manhattan, stood cornered by a media frenzy. (There were easily five reporters for every protestor.) She cradled a Super Big Gulp brimming with 40 ounces of blue Gatorade and a makeshift sign that read "Nanny Bloomberg: Stay out of our kitchens."
Ms. Herbert told The Observer she fears the ban is a precursor to future food bans and an infringement on civil liberty.
"I understand that after this [Mr. Bloomberg] is going after popcorn, then Starbucks," Ms. Herbert said, expressing genuine concern over the impending demise of all sugar- and butter-laden snacks.
We shifted our attention toward the voice of Queens councilman and Republican congressional candidate Dan Halloran, who was accompanied by two young women outfitted in soda cup costumes that read "One small sip for man … one Big Gulp for mankind."
Mr. Halloran, with his flashy propaganda in tow, had his audience jeering the ban in minutes, imparting on the crowd his sound reasoning for protesting.
"When the mayor went after salt, nobody said anything," Mr. Halloran bellowed to the crowd, evoking (perhaps unintentionally) Martin Niemöller's excoriation of Germany's failure to halt the Nazis' rise to power. "When the mayor went after MSG, everyone was quiet. When the mayor required us to post the information about the calorie counts in everything, no one said a word. When we banned smoking inside restaurants, everyone said, 'Hey, it's fine. Well, today, it's your soda," he concluded.
His reasoning echoed in the testimonial of Audrey Silk, founder of CLASH, a smoker advocacy group.
"How soon until you can't have that soda or burger standing outside—just like they don't let smokers have a cigarette—because they say it'll teach children the wrong message?" Ms. Silk questioned the audience, some of whom were murmuring about her smoker's rasp.
Despite all the circular reasoning, the crowd seemed ever firm in mitigating the ban, claiming a breach of personal rights and emphasizing Bloomberg's tendency to focus on frivolous causes in lieu of a grander picture.
We sauntered over to Jim Lesczynski, a protestor toting around the most discernible activist prop at the rally—his three children, each with a Big Gulp in hand.
"I think it makes a statement that people are able to give their children a treat," Mr. Lesczynksi told The Observer regarding his decision to include his children in the rally.
"And he's picking us up from camp!" his youngest daughter offered helpfully before taking a swig of Hawaiian Punch.