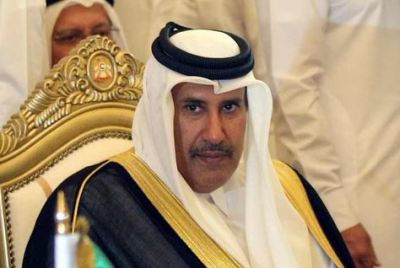 The Qatari Prime Minister, despite being everyone's favorite character in the drama of the New York's luxury real estate market, is not the buyer of the $90 million penthouse at One57, according to Gary Barnett.
Mr. Barnett, the president of Extell Development, told The Wall Street Journal that the rumors, though rampant, were false.
The New York Post, citing unnamed sources, reported on Monday that Sheikh Hamad bin Jassim bin Jaber Al Thani had finally found a home in the city's most expensive apartment in the city. The apartment went into contract in May and is expected to break real estate records when it closes for a price that is said to be higher than $90 million.
Rumor had it that Mr. Hamad, smarting over the loss of two adjoining Huguette Clark apartments at 907 Fifth Avenue, had stopped trying to woo snooty co-op boards, purchasing instead a magnificently new $90 million condo.
Nor, for the record, is Mr. Hamad the buyer of another One57 penthouse that just went into contract, as reported by The Journal. (That unit, which spans the 75th and 76th floors of the tower and was most recently listed at $115 million—making it the most expensive unit currently on the market—is said to be in contract for less than $90 million).
The story of Mr. Hamad's big buy did, to be honest, have all the trademarks of a rumor in that he was not only said to be the buyer of the penthouse, but also of four! other floor-throughs in the building, putting his total investments at $250 million. But hey, the gossips need someone to fixate on now that Steve Wynn has finally found his Manhattan dream home at the Ritz- Carlton.
Mr. Barnett, speaking with The Journal, refused to identify the buyer of either penthouse, but said that neither was from the former Soviet Union or the Middle East.
"Neither is on the right continent," Mr. Barnett said, "So they have another five guesses to go."
He did, however, say that he would be happy to have Mr. Hamad, as well as his rather extensive entourage, in the building.
"We feel perfectly capable of dealing with high service requirements without impinging on any other resident," Mr. Barnett told The Journal. "We would be very happy to have the prime minister of Qatar in our building."