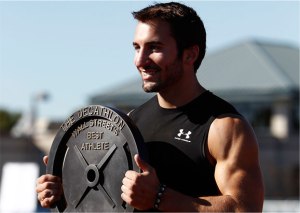 Could it be that lower comp at Goldman Sachs has the firm lagging RBC Capital Markets in the fundraising component of a competition to crown Wall Street's best athlete?
Maybe not. But on the same day the firm said it would cut $500 million in expenses in 2012—with the bulk of those savings likely to come from compensation—we noticed that Goldman has a lot of work to do if it wants to retain its title as the top fund-raiser in The Decathlon, an annual competition that pits finance pros in a series of 10 events.
Last year, Goldman professional Justin Nunez won the overall competition—composed of the 40-yard dash, 400- and 800-yard runs, bench press, agility drill, vertical leap, rowing, dips, pull-ups and football toss—and Goldman raised more money for the Memorial Sloan-Kettering Cancer Center than any firm in the field. Now Mr. Nunez has left the company, and RBC is dominating the fund-raising event.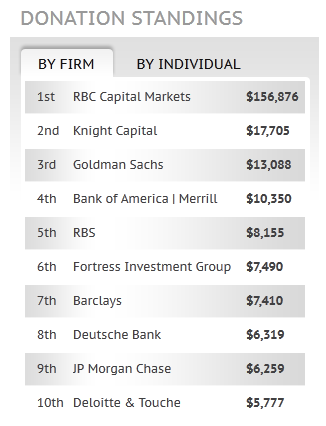 Goldman isn't without hope when it comes to defending the two crowns, a friend tells The Observer. Two-time Texas Longhorns football captain Matt Melton represents Goldman's best bet for an individual title. Former Cornell soccer player Brian Kuritzky, meanwhile, has a track record of raising money: In February, he gathered $100,000 in charitable pledges to support his race to the top of the Empire State building, and in 2010 he raised $75,000 for the Susan G. Komen Breast Cancer Foundation by running in an ultra-distance triathlon. But with less than two weeks until the July 29 competition, the firm will have to catch up fast. Indeed, the entire field has some work to do, as organizers are less than half way to the competition's fundraising goal of $1.5 million.