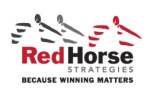 Red Horse Strategies, the local political consultancy most known for their ability to run a sophisticated field operation, have beefed up their office in advance of the fall elections.
Among their hires include Dan Morris, best known as a relentless press officer for the RWDSU and their living wage campaigns, and Peter Kim, most recently of the Working Families Party. The group also announced that they were hiring Jenna Bimbi, a former Teach for America fellow and Tim Biba, a former aide to Syracuse mayor Stephanie Miner.
"Our success has always been driven by the integration of sophisticated political strategy, creative communications, and superior field operations.  With Dan Morris's diverse communications experience and Peter Kim's deep understanding of field operations, we'll continue to combine these core campaign elements in fresh and powerful ways," said Doug Forand, a founding partner of Red Horse Strategies. "Jenna and Tim round out our current expansion. Their work has already proven valuable in our winning primary campaign season. As we serve a broader range of clients, we will continue to bring an entrepreneurial edge to city, state, and national campaigns, which will distinguish us in the marketplace."
Red Horse has had a number of successes in recent years, but their most recent success was running the field operation for Grace Meng's winning congressional race.
Full  release below:
Dan Morris will be Managing Director of Communications and Public Affairs and start at the firm July 23. He is a strategist with a decade of experience in media relations, communications, public policy, and issue advocacy. A veteran publicist, his media work has helped build coalitions, mobilize diverse communities, pass legislation, shape electoral agendas, and put new movements and ideas on the map.  Most recently, he was Director of Communications at the Retail, Wholesale and Department Store Union (RWDSU), running an aggressive press operation that enabled the union to win better contracts, impact key electoral races, and become a stronger voice for low-wage workers and economic justice. Prior to that, Morris served as Director of Communications at the Drum Major Institute for Public Policy, enhancing DMI's brand and influence by inserting the organization's analysis and research into major policy debates playing out in top-tier media outlets. In 2009, with former New York Times journalist Jonathan Hicks, he co-edited From Disaster to Diversity: What's Next for New York City's Economy?, a collection of essays praised by The New York Daily News for offering "bold ideas for New York City."
Peter Kim will be Director of Field Operations and Canvassing and has already begun working at the firm. He is a seasoned operative with a deep background in field strategy, canvassing, community organizing, and campaign management. He has extensive experience managing canvass, field, and electoral operations for city, state, and national campaigns. For the past six years, Kim has been a key staff leader at the Working Families Party, during a period of increased political influence and expansion for the organization. He has coordinated WFP canvass campaigns in New York and across the country, including New Jersey, Connecticut, Florida, Pennsylvania, and Oregon. In 2010, he managed Sam Roberts' successful campaign for New York Assembly, and he worked on Shelley Mayer's 2006 Assembly campaign. Earlier in his career, he was involved in fundraising for organizations like OxFam, Red Cross, Children International, North Shore Animal League, and Plan USA. In addition, he has handled national recruiting and marketing, including print and new media ads, for DialogueDirect, a leading fundraising agency serving many nonprofit organizations.
Jenna Bimbi will serve as Deputy Director of Field Operations and Canvassing, integrating her experience in education and non-profit operations with RHS's campaign operations.  Jenna served for two years with Teach for America in New York City prior to earning her Master's degree, and later worked at TFA's Summer Institute assisting in the instruction of new teachers.
Tim Biba is serving as RHS's Upstate Campaign Associate, after previously serving as Deputy Political and Finance Director for Mayor Stephanie Miner's Promise PAC, and as a researcher for the New York State Assembly's Majority Communications office. Tim has also served as an intern for U.S. Senator Robert Casey, and was honored by U.S. President William J. Clinton at the 2010 Clinton Global Initiative University Conference for creating and leading the "Books and Cooks" nutritional-literacy initiative.