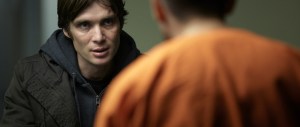 Robert De Niro, whose acting career has been on hiatus for years, appears once more in mufti in the incomprehensible sci-fi bore Red Lights, playing the kind of role he could exchange with Al Pacino without the audience ever knowing the difference. With the same kind of sullen, bug-eyed somnambulism both actors have become famous for, he appears as a leaden psychic named Simon Silver, who retired from the hugga-mugga business in 1975. More than 30 years after his final appearance, he makes a comeback, hell-bent on proving to the world he is one of the "chosen ones" blessed with genuine psychic powers. Sigourney Weaver, determined to prove only that she will do anything for money, plays Dr. Margaret Matheson, a skeptical, pragmatic university lecturer on paranormal phenomena who, in her spare time, investigates poltergeists and other weird happenings. She does not believe in miracles and hates hocus pocus. (The Red Lights in the title refers to the tricks behind supernatural activities she devotes her career to expose.) So she ridicules Mr. De Niro as a clairvoyant fraud and before you can say "Edgar Cacey," her telephone starts ringing and there's no one on the other end of the receiver. One gruesome phenomenon after another eventually drives her loco, lights flash like fizzling Fourth of July fireworks that have been rained on, and she keels over mysteriously. Is it De Niro, playing Merlin? Or a stroke? Maybe she just saw the rushes.
At any rate, Sigourney Weaver, the most interesting ingredient in this pretentious and otherwise incongruous atrocity, dies early and gets replaced by her young assistant, a devoted associate professor named Dr. Tom Buckley (the energetic and chameleon-like Cillian Murphy), who takes up where she left off, dedicating his life to proving psychic phenomena is a lie and Silver is a fake. But when he goes to Silver's theatrical performance and gets injured by shattered glass, even his resolute faith is shaken. I admit, in all honesty, that this is the point where I began to experience my own Doomsday prophecy, so when the university stages an elaborate scientific experiment within the walls of the Scientific Paranormal Research Center (which, I guess, is a cinematic metaphor for Edgar Cacey's real-life Association for Research and Enlightenment) to test Silver's extrasensory perception, what happened next left me groggy, uncertain and fighting the urge to doze. I won't spoil it by revealing more, but I will confess that the movie turns unwisely technical, losing whatever chilling edge it might have had—all of which gives writer-director Rodrigo Cortés a chance to introduce a toxic wasteland of scientific mumbo-jumbo in a dull debate between bogus spirituality and holistic truth, hamstrung by digital, computerized special effects that do nothing to enhance a narrative that is already dead on arrival.
Red Lights goes astray on so many levels that I gave up trying to figure it out before the end of the second reel. Psychic research continues. Readers of books like There is a River by Thomas Sugrue and The Sleeping Prophet by Jess Stearn may want to know more, but for moviegoers seeking real enlightenment or just plain entertainment, check the listings to see what else is playing.
rreed@observer.com
RED LIGHTS
Running Time 113 minutes
Written and Directed by Rodrigo Cortés
Starring Sigourney Weaver, Robert De Niro and Cillian Murphy
1/4