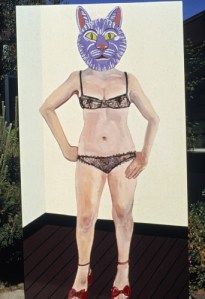 In the extensive digital archives on the New Museum's new web redesign, we found this page about the 1978 exhibition, "Bad Painting," organized by the museum's founder, Marcia Tucker. The show included so-called "bad" drawings and paintings by 14 different artists. Here's the full list of participants (with hyperlinks to each artist's exhibition history at the museum):
James Albertson
Joan Brown
Eduardo Carrillo
James Chatelain
William Copley
Charles Garabedian
Robert Chambless Hendon
Joseph Hilton
Neil Jenney
Judith Linhares
P. Walter Siler
Earl Staley
Shari Urquhart
William Wegman
According to a note from the original press release:
In keeping with the museum's policy of showing new and provocative work by living artists from throughout the United States, 'Bad' Painting raises several controversial issues about the nature and use of imagery in recent American art. The artists whose work will be shown have discarded classical drawing modes in order to present a humorous, often sardonic, intensely personal view of the world. Although for the most part they are well known in their own communities (they are from such diverse parts of the United States as Detroit, Chicago, Sacramento, Madison (Wisconsin), Houston and New York) their work has not generally been seen in New York.
There's an extensive photo archive too, which we recommend looking at. The idea of a bad painting exhibition popped up again in 2012, as a main feature of Sheila Heti's novel How Should a Person Be?, in which two of the narrator's friends compete to see who can make the worst painting. Who knows if she was influenced by this show in particular, but either way it's nice to see an exhibition where the bad paintings are ironic rather than just, you know, actually bad.