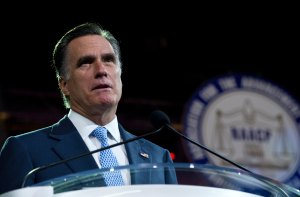 Back in 2002 when he was running for Governor of Massachusetts, Mitt Romney and his aides had no problem admitting he retained his position as CEO of Bain Capital after 1999. Press articles from the time describe how Mr. Romney was on a "leave of absence" after 1999 and had not fully cut ties with the private equity firm.
Now that he's running for president, Team Romney has repeatedly said he left the company after 1999, a claim that was called into question by yesterday's Boston Globe report revealing Mr. Romney signed documents identifying him as chief executive and chairman of Bain Capital as late as 2002. Mr. Romney being on a "leave of absence" would explain the discrepancy and it doesn't mean he played any role in managing the company, however, according to at least one former Bain Capital executive, during a prior leave of absence, Mr. Romney still remained in a very active role with the company.
The Obama campaign jumped on the reports of Romney's appearance on Bain Capital's SEC filings after his purported departure with a slew of statements on the "big Bain lie" and a conference call with the press where Obama For America Deputy Campaign Manager Stephanie Cutter suggested Mr. Romney may have committed a felony by "misrepresenting his own position at Bain to the SEC." Mr. Romney's campaign spokeswoman Andrea Saul attempted to brush off the Bain brouhaha with a statement this morning saying, as the Romney campaign has throughout this election cycle, that Mr. Romney "left Bain Capital in February of 1999 to run the Olympics and had no input on investments or management of companies after that point."
However, it seems that Mr. Romney did not simply leave Bain Capital in 1999. Rather, he took a leave of absence to work on the Salt Lake City games. In 2002, when he was running for Governor of Massachusetts, Mr. Romney and his aides, including Eric Fehrnstrom who remains his senior advisor, spoke to the Boston Globe for a story after questions were raised about two businesses that taken over by Bain Capital and hit with layoffs while he worked with the company. That article refers multiple times to the fact that Mr. Romney "was CEO of Bain Capital until 2001," an assertion that apparently went unquestioned by Mr. Romney and his staff who defended him by saying he was on leave when the incidents occurred.
"Romney, who was CEO of Bain Capital until 2001, has repeatedly said he was on leave from the company in 1994, when strikes erupted at Ampad's now- closed Indiana paper plant, and again in 2001, when GST Steel, a Kansas City plant, laid off workers and closed," wrote Globe reporter Yvonne Abraham.
At the time, Mr. Romney's gubernatorial campaign provided the Globe with a letter clarifying his post-1999 role with Bain Capital.
"The campaign also produced a letter from Bain's lawyers, saying Romney was not actively involved with Bain after Feb. 11, 1999, even though he was sometimes called on to sign Bain's SEC filings," Ms. Abraham wrote.
Clearly it would have been more correct for Mr. Romney's presidential campaign to say he went on a leave of absence from Bain Capital in 1999 rather than, as they have repeatedly, claiming he left the company.  Since Mr. Romney was on a leave of absence and retained his title with Bain Capital, it would make sense that he would appear on SEC 13D forms even if he had no management role as the purpose of those forms is simply to outline the investors and titleholders of publicly traded companies. However, other press reports published during Mr. Romney's 2002 run for governor in the Bay State raise questions about whether Mr. Romney was actually absent during his leaves of absence from Bain Capital.
Prior to taking leave to run the Olympics in 1999, Mr. Romney took a leave of absence from Bain Capital during his 1994 Senate campaign. Another Globe article published in 2002 contains a quote from a former Bain Capital executive named Marc B. Wolpow who said Mr. Romney remained in a very active role at Bain Capital while he was supposedly on a leave of absence for his Senate race.
"I reported directly to Mitt Romney . . . You can't be CEO of Bain Capital and say, `I really don't know what my guys were doing,'" Mr. Wolpow said of Mr. Romney role at the company during his leave.
Mr. Wolpow declined to comment on this story. The Politicker reached out to Mr. Fehrnstrom multiple times yesterday to see why his current explanation of Mr. Romney's departure from Bain is different than the one he gave the Globe a decade ago but we have yet to receive a response.