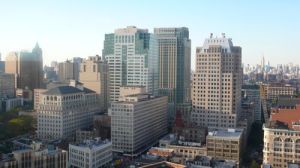 New York's tech boom has been a boon for the city's commercial real estate market, as well, especially unusual spaces not typically associated with Class-A office space—look no further than Google's astronomical purchase of 111 Eighth Avenue and the swells in Midtown South.
Downtown Brooklyn is looking to capitalize on the growing demand for a certain type of office not typically found on the avenues while also providing a bridge to techies as they begin to mature and their needs evolve. A team of local business groups hopes to create the Brooklyn Tech Triangle. The idea is to tap into the successes of Dumbo (Silicon Beach!) and the Brooklyn Navy Yard (dozen of firms are on the wait-list to get in) to create a whole new alleyway for Silicon Alley that connects these hot hoods with the still somewhat dowdy (Shake Shack!)
"We've seen an explosion of tech gather along the waterfront," Tucker Reed, president of the Downtown Brooklyn Partnership, told The Observer, "so much so that they've run out of space."
Mr. Reed has the perfect place for them to go, of course.
Yet the connection between Downtown Brooklyn and the waterfront has never been a strong one, thanks to a mess of pyschic and physical barriers standing between the two, from freeways and housing projects to stereotypes and boarded up buildings. "A lot of the upper stories on the Fulton Mall are empty," Mr. Reed pointed out, citing perhaps an extreme example of the area's possibilities.
A better fit might be the Art Deco towers along Court Street or even the Metrotech Center, more often associated with bank's back offices but where MakerBot recently moved in.
"When you're a new start up with 20 people sitting at a big desk in a loft, that's great," Mr. Reed said. "But when you're more mature, you've got 200 people, more VC and corporate influence, you might need something a little different. Downtown Brooklyn offers both, and you're still close to all your friends."
The partnership predicts that employment in the Brooklyn Tech Triangle will nearly double in the next three years, from 9.628 workers to 17,960. He points out that Downtown Brooklyn's office market rivals that of Phoenix in size, and with a vacancy rate of 10 percent, that is roughly the 1.5 million square feet the expanding tech industry will need. "That is as big as all the office space in Dumbo, so we've got plenty of room to offer as our neighbors tap out," Mr. Reed said.
To help connect the neighborhoods, the partnership has just issued a call for design teams to create a master plan for the tech triangle. Their job will be to suggest physical and economic improvements that could help fuse the three neighborhoods together while helping to foster expansion in all three. "We don't have any specific plans yet—that's what the planners are for," Mr. Reed said.
The problems are perceptual as much as anything. "Brooklyn Bridge Park and the Barclays Center are maybe a mile and a half apart, but I don't think many people, even locals, would know how to get from one to the other," Mr. Reed said. The streets can get a little messy, in other words. Improvements have already come to Flatbush Avenue, but more could be done.
"The growth has been pretty organic, but we can do more," Mr. Reed said.
NYU's big push for a hot new tech campus in the MTA's old building on Jay Street has helped raise the area's profile, but Mr. Reed wants to do more. "We've got 12 colleges down here, more college students than Cambridge," he said. "We want this to be about local employment, too. This is not only good for tech firms but good for Brooklyn."
Whether the major tech firms will make the move from hip lofts to corporate office blocks remains to be seen, but hey, Flatiron has a Shake Shack, too.