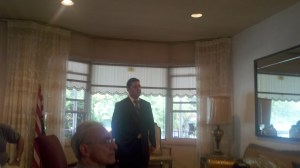 Avraham Tischler, a 21-year-old candidate running against establishment favorite Simcha Felder in the so-called "Super Jewish" state senate district, has a novel idea. Instead of saying he'll caucus with Democratic Minority Leader John Sampson or Republican Majority Leader Dean Skelos, Mr. Tischler, a Democrat, said he'll support Bronx State Senator Rubén Díaz instead.
Mr. Díaz would initially seem to be an odd choice for Mr. Tischler, but the state senator, a political gadfly known for his staunch socially conservative positions, allows Mr. Tischler to back a fellow Democrat without saying he'll back a liberal like Mr. Sampson.
"I would have voted for him to preserve our values," Mr. Tischler said yesterday afternoon at a Brooklyn Tea Party meeting. "I am conservative and anyone that has the best interests of the community, those are the people that I would work with. … Rubén Díaz has a lot of values that are associated to a lot of my beliefs."
Meanwhile, Mr. Felder has been murky on who he'll support for senate leadership and has given seemingly conflicting answers when directly asked. The district's large Orthodox Jewish population strongly opposes gay marriage and the Senate Republican conference has been extensively courting the community, creating complicated politics for a Democratic candidate. Conversely, GOP State Senator David Storobin, running for reelection in the same district, proudly proclaims his support for Mr. Skelos.
Of course, the legislative rules don't exactly enable state senators to back whomever they want for majority and minority leaders, and the positions are instead filled by competing resolutions. Mr. Tischler indicated he might prefer the Republican side in this sort of scenario.
"Without a question, no," he said when an audience member asked if he would vote for Mr. Sampson.
"If that's what my community would like," he said when asked if he'd support Mr. Skelos.