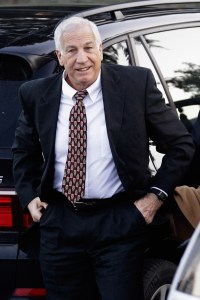 An interesting article that appeared in yesterday's print New York Post, but somehow hasn't made its way online, details a major GOP donor's ties to the Penn State sex scandal. The story, written by Carl Campanile, noted Lance Shaner, who gave the maximum donation of $2,500 to the Romney campaign and $100,000 to Mr. Romney's super PAC Restore Our Future, served on the board of convicted child molester and retired Penn State football coach Jerry Sandusky's charity, Second Mile. Mr. Shaner also donated $155,550 to Republican Pennsylvania Tom Corbett's gubernatorial campaign and the Pennsylvania Republican Party headquarters was named after him. 
Second Mile was founded by Mr. Sandusky in 1977, ostensibly to help underprivileged and at-risk youth. Mr. Sandusky met many of his victims through the charity. Questions have been raised about the Second Mile board's handling of Mr. Sandusky. the charity is reportedly being investigated by the U.S. Postal Service, which enforces some federal laws related to child exploitation. Mr. Corbett has also called for an investigation.
Mr. Shaner was on Second Mile's board from 1998 until 2006. During this time, the charity was made aware of child abuse allegations against Mr. Sandusky on at least two occasions. In 1998, Second Mile knew Mr. Sandusky was being investigated for "misconduct in a Penn State shower" with a boy from the program. That investigation was closed when the district attorney declined to press charges. In 2002, Second Mile CEO Jack Raykovitz claimed he was told by Penn State's athletic director Tim Curley that the University conducted an investigation into an allegation of "inappropriate contact by Mr. Sandusky with a youth in a university locker room" but found "no corroboration."
Second Mile finally removed Mr. Sandusky "from all of our program activities involving children" in 2008 when he let them know about a third investigation of allegations of sexual abuse made against him by an underage boy. In spite of this, he was still affiliated with the charity until his retirement in September 2010.
According to the Post, Mr. Shaner declined to comment on their story, "but Romney backers in Pennsylvania defended him."
"Lance is a terrific guy. I don't see any connection with Sandusky," Pennsylvania Republican Party Chairman Rob Gleason said.