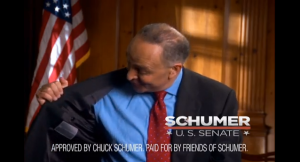 Team USA decked out in get ups made in China? How very unpatriotic of you, Ralph Lauren.
Critics have recently been making themselves heard on the choice of the Bronx-born designer to craft the athletes' ceremonial garb—and they have been joined by Senator Chuck Schumer.
As an alternative to the made-in-China brand, Mr. Schumer suggested men's clothing manufacturer and longtime New York stalwart Hickey Freeman. Endorsed by the senator as an all-American business, the brand was even part of his 2010 campaign video.
Long popular among the habedasher-ed set, Hickey suits have clothed such big names such as Rudy Giuliani and Al Gore.
But while the company may have factories in Rochester, it is owned by S. Kumars Nationwide Limited, a large textile and apparel brand based in India. And while the Hickey Freeman website emphasizes how the company is "still American-made, still laboring away in the Temple," whatever profits Hickey Freeman gets from making Olympics clothing ultimately profits SKNL.
It appears that Sen. Schumer and his team were unaware of this, despite spending the past few years promoting the company, and even boasting of helping facilitate the sale of Hickey to SKNL. When asked about the SKNL connection, Congressional Staffer Michael Morey paused. "I don't know anything about it," he said.
Senator Schumer eventually added in a statement, "It's far better to have foreign capital come here and create American jobs than American capital go there and create foreign jobs."
Online commenters also noted, however, that while some Hickey Freeman clothes are made in Rochester, other shirts bear the tag "Made in Peru."
Looks like there's just no getting away from globalization. Sorry.