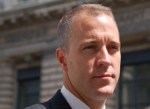 Former Bill Clinton aide Sean Patrick Maloney won a tightly contest primary three weeks ago and now faces incumbent Republican Nan Hayworth for a Hudson Valley congressional seat that is slated to be one of the most-watched elections in New York State.
Today, Mr.Maloney announced he was re-tooling his campaign team for the general election, with some high-profile hires from the New York City area, including media specialist Jennifer Cunningham and pollster Jef Pollock.
"When I worked for President Clinton, we were able to create jobs and balance the budget because the President knew how to build a team he could count on," Mr. Maloney said. "With the Primary behind us, I am excited to follow the President's example by putting together a great team that will win in November."
The full line-up is below:

Mail:
Ed Peavy; Founder, Managing Partner, and Chief Strategist, Mission Control LLC
Ed is the catalyst behind Mission Control's winning formula of unique strategic recommendations and creative ad executions. Peavy was called a "direct mail-master" by Politico for his role in Kathy Hochul's upset special election victory. The firm's New York victories include working for Governor Cuomo, Senator Gillibrand, as well as Congressman Tim Bishop, Congressman Bill Owens and Congresswoman Hochul.

Adnaan Muslim; Partner, Creative Director, Accounts Director, Mission Control LLC
A native of Newburgh, NY, Adnaan has been with Mission Control since the beginning, becoming a Partner in 2002.  Since then, Adnaan has served as the company's Accounts Director and now as the Creative Director and Vice President, playing a vital role in both overall campaign strategy and the creative process.
Polling:
Jefrey Pollock; Founding Partner and President, Global Strategy Group
Jef Pollock leads the Global Strategy Group's research practice. He has advised U.S. Senator Kirsten Gillibrand (NY) and Governors Dan Malloy (CT) and Brian Schweitzer (MT) along with many other members of Congress and state and local elected officials. He has also consulted on behalf of many of the world's leading NGOs and corporations, including the Bill & Melinda Gates Foundation, Goldman Sachs, Con Edison and Starwood. Jefrey earned degrees from the University of Pennsylvania and Columbia University, where he is currently an Adjunct Professor of Public Policy and Administration.
Research:
Allen Nesbitt; Principle, Nesbitt Research
In 15 years in research, more than 200 campaigns and causes nationwide have sought out Allen Nesbitt and his team to mitigate risks and increase awareness in the information economy. Allen directs all aspects of research at the firm including research design, collection and writing.
In 2010, Allen and the Nesbitt Research team worked with America's largest labor unions, state parties and candidates for progressive victories nationwide. In 2007 and 2008, Allen worked with the DCCC, the DSCC and helped the Virginia Democratic Party win four seats in the House and take back control of the Senate for the first time since 1999. In 2006, Allen and his team provided more than 30 research dossiers for state parties including the Maryland Democratic Party, the Minnesota DFL and the Indiana Democratic Party.
Campaign Manager:
Timothy Persico
Tim Persico brings nearly a decade of on-the-ground political experience, specializing in suburban Congressional districts like NY-18. Tim last served as Campaign Manager for former Congressman Patrick Murphy in his race for Pennsylvania Attorney General.