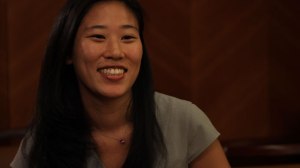 You know them, you love them, and now they have a kid on the way. EDC president Seth Pinsky let slip in an interview with The Real Deal, that his wife Angela Sung Pinsky, a big over at REBNY, is now pregnant.
Do you have kids?
No. We're expecting [at the end of November]. I haven't told a lot of people, so this is my way of letting everyone know.

Do you know if it's a boy or a girl?
No. My preference would be not to find out. Angela's preference would be to find out. And, as I've come to learn very quickly, in a tie, the mother's vote is the one that counts. So we'll find out in a couple weeks.
Naturally, the couple lives in Park Slope, but it does not sound like they are brownstoners.
Where do you live now?
We live in Park Slope. We're in the process of moving to another apartment in Park Slope. We're going to totally change scenery and move about a block and a half away.

Do you own any other homes?
No, we don't. We'll be lucky if we can afford our new home.
But what religion will they be raising the kid?
Are you religious?
This is dangerous. Can I plead the Fifth on this? I am religious in my own way. … I don't eat pork, I don't eat shellfish. I belong to a synagogue; I attend that synagogue from time to time.
Woody Allen couldn't have said it better. From all of us here at The Observer, mazel tov.