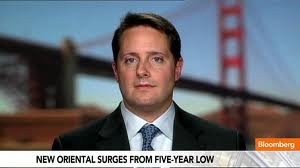 So you're writing a take-down of a Chinese education company that may be publishing fraudulent financial statements, and you're puns are falling a little flat. You're calling the report "Magna Cum Fraud," so that's taken care of, you've got something catchy about sharpening pencils. But what do you do with the section in which the mother of the company's chairman winds up owning $41.8 million in stock?
Well, such a dilemma might stump lesser minds than Carson Block, the Muddy Waters short seller who sent shares in Sino-Forest tumbling last year after he published a report indicating that the Chinese timber company had exaggerated its assets, and who last week alleged that U.S.-listed New Oriental Education and Technology Group had filed at least two years of fraudulent statements. Mr. Block, however, had an answer (nice catch BI):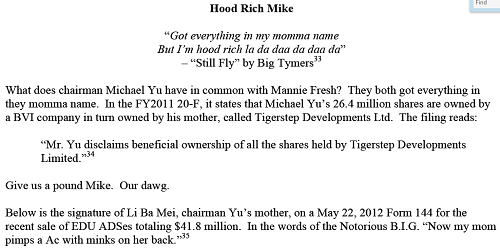 Which, well, this really happened, and it's horrifying, but maybe also delightfully ridiculous?