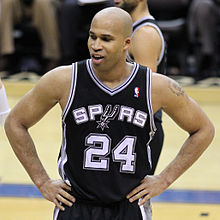 Now that he's spent the last few years playing for West Coast teams, it only makes sense that former New Jersey Nets star Richard Jefferson would sell his fifth-floor loft at 169 Hudson Street.
Mr. Jefferson, who now plays with Oakland's Golden State Warriors, bought the 3,584-square-foot condo for $3.5 million in cash in 2004 (he had just signed a 6-year, $78 million contract with the Nets, so having that kind of money lying around was no stretch). Located in a former warehouse, the condo has 10-foot ceilings—a big plus for a 6-foot-7 athlete.
"He's always been excited about living in the city," Mr. Jefferson's (sports, not property) agent, Todd Eley, told The New York Times when he bought the pad.
But sometimes even the best relationships come to an end, and, after parting with his fiancee, a one-time Nets dancer, in 2009, Mr. Jefferson apparently had no remaining connections in the city.
Mr. Jefferson bought the apartment a few months after participating in the 2004 summer Olympics in Athens. With another Olympics on the horizon, it seems that he has decided to embrace the passage of time and leave the loft behind.
Mr. Jefferson sold the four-bedroom, 3.5-bath apartment without a public listing, for $5 million to Jennifer and Ryan Stork, according to city records. The Storks, who are relocating from a 3-bedroom in the nearby Sugar warehouse building, will enjoy exposed beam ceilings, a fireplace and hardwood floors in their new home (the floor must have been a comforting sight for the basketball star—who apparently didn't mind gazing at hardwood on the court and from his couch).
kvelsey@observer.com